Hi everybody, Good Morning world!, weather seems to be always cold and damp and not feeling very happy about it, Quite excited now, might be visiting India soon, children are excited too!, they are counting days so can see their cousins and family after 3 Long years, this one recipe brings back memories of Home and Ganesha festival, My Mom is an expert, in making this of course not with my twist using Quinoa powder, she doesn't even know what it is!, Yesterday my kids were discussing and making a list of all the goodies they were going to ask their Nan to prepare for them and my eldest was saying in her list this would be the first one!
As we all know that we offer this Sundal/usal/Stirfry to Lord Ganesha during Ganesha Chawthi, this is also done in our Home during the Naming ceremony of the New born Child, If my friends and family are reading this they would have tasted my mother's Sundal, as she is always asked to make them or Supervises the recipe!
I have given a new Twist to this recipe by adding Quinoa Powder, which gave a wonderful taste to the Black Channa and it tasted great!, I try this Quinoa in all my day to day cooking as it is rich in Proteins and is good for the health of Growing Children.
Here is recipe...
BLACK CHANNA/KADALE KAALU USLI/ USAL/ STIR-FRY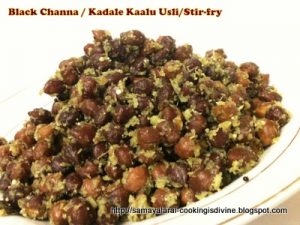 INGREDIENTS:
1 Cup Black Channa/Kadale Kaalu/ Kaala Channa/ Black Garbanzo Beans
10 to 12 Sprigs of Coriander leaves
1/4 tsp of Asafoetida
3 to 4 Green Chillies
1'' Ginger piece
1/4 Cup Coconut
2 tbsp of Quinoa Powdered
Salt to taste
SEASONING:
2 To 3 Tbsp of Oil
few curry leaves
1 tsp Mustard seeds
METHOD:
First of all Soak Black Channa Previous night, as it needs at least 12 to 15 hours of Soaking time ( A tip my sister gave me was soak all these kind of Beans with a pinch of Baking Soda, it makes the beans soft and in the morning you can wash it 2 to 3 times to get rid of Soda).
In India people don't like to use Soda in the cooking, as it was known as not good for health, well, these days I use it a lot because of baking, that too when you are trying out Eggless baking!
Any ways coming back to the recipe....
Fry Quinoa in a dry pan for few minutes like it starts to change colour and starts spluttering, remove it aside and allow it cool
Meanwhile cook Black Channa with a tsp of Salt in a pressure cooker upto 3 whistles which makes the beans quite soft using water (This water need have to be thrown out as it will have nutrients, you can use this to make Rasam, Sambhar, gravies or in any other way which it can be substituted for water), The water should be soaking level of the beans.
Once everything is cool, drain the water and store it for future use and keep aside.
In a mixie Grind coriander leaves, ginger, chillies, asafoetida and Fresh coconut to a consistency where everything is grinded properly add little bit water if required not too much.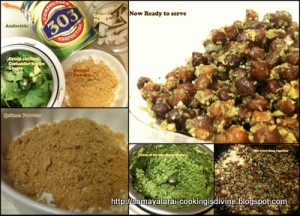 Take a wok/pan heat oil when it is hot add Mustard seeds, when they splutter add curry leaves and the grinded masala and saute for 2 to 3 minutes, then add the cooked Black Channa or Kadale Kaalu to the wok and mix well with a little bit more salt (Remember that you have already used salt when cooking the beans). Once everything is well mixed add Powdered Quinoa mix well once again, close the lid and leave it for few minutes in a minimum flame, so the Beans observes all the Ingredients well, be careful that they don't stick to the pan/wok, sprinkle little water if so, that's it mix well and it is ready to serve now
Enjoy..
I would like to send this MLLA#31 started by Susan hosted by Simona of Briciole
I would also like to send this to CMT- KATHOL, Event hosted by Lakshmi of Taste of Mysore, brainchild of Jagruthi's.