Hi everybody how are you all doing ?, These are the Biscuits I made a long back in my draft, I made these when Lubna and Yasmeen announced for Ramdan event :), I made thrice, we ate, even shared to friends and family but never posted on time :).
I had written this in my book, quite a long time ago but had never tried them as I had no oven, I just thought I will give a try as it was made with dates. Dates are one of my favourite dry fruits, I get so tempted when I see.
When ever my friend visits his parents in Dubai, never forgets to buy me a box full of Dates. So, here I am with this recipe, and of course as I told earlier, I made these quite a lot of time, as my kids and friends liked it.
I made it in both with Egg and Eggless way and it turned quite well in both the ways.
BISCUITS TAMIR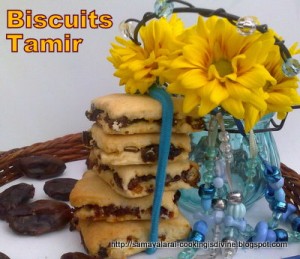 INGREDIENTS:
2 Cups of Flour
200gms Chopped Dates
1 Egg
1/4 Cup Oil
3/4th Cup Sugar
1 tsp Baking Powder
2 tbsp Sesame seeds
water as needed little by little to form a dough
METHOD:
Sieve flour with Baking Powder, add egg, oil and sugar to it. Mix well for 3 to 4 minutes, Make a stiff dough with water, Knead well and keep aside.
Meanwhile chop the dates nicely and keep it ready.
Divide the dough into two portions. Roll out into thick square or round like a Chapati, prick with a needle spread dates all over, cover with another chapati or however you have rolled the dough on the first roll.
Press a little and sprinkle Sesame seeds. Cut into rectangles and bake in a preheated oven at 180 degrees for 15-20 minutes, cool and store.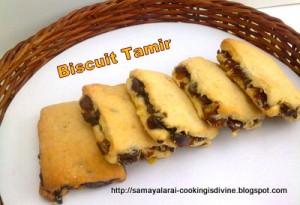 FOR THE EGGLESS VERSION: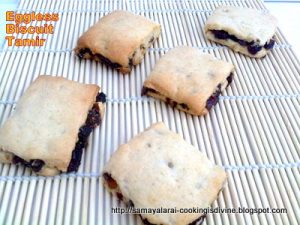 INGREDIENTS:
Same as above for the Egg version but I just omitted the Eggs in it and used water as needed to bond the dough. (An other time I used 2 tbsp of Flaxseed powder to give it a little more healthy touch).
For the dates filling, I Grounded
3 tbsp of Poppy seeds with grated
1/4 cup of Copra and
3 tbsp of sugar and
1 cardamom pod without the skin.
Mix this with the dates and spread it over the rolled dough same as above and spread another roll on top of it and bake the same way.
It will not puff up as the egg one, but tastes good.
I am sending this to the event hosted by Sudeshna of cook like a bong, Cooking with seeds – Poppy seed, started by Priya of Priya'seasyntasty recipes.