Hi everybody, Having a wonderful sunlight weekend, days have become quite busy, from past 4-5 days  we have been enjoying summer,  except for the wind of course which I hate.  People become quite busy here when they see the sun, Everybody wants to make use of the sunshine,  I am no different I have been very busy too. I chopped down a 5 1/2 ft tree, with the help of my neighbor, both of us together sawed the base after that, poor old Mr.B who is 80+ left me alone, as I kept nagging that he is too young to do that job :), God knows why the previous owner had that tree,  which had such long thorns and I had a big time, to completely cut it out and fill my bin, I had to borrow my neighbor's bin too, filled two green bins completely with that thorny tree, so one job done, only ended up with severe pain in my neck and shoulder still suffering :(.  H was totally happy ( for one thing that he need not have to do that ) that I had done a great job.  Next week planning to pot my plants and some on the ground too (some perennials which don't die in winter and i don't have to keep growing new plants every year),  which are nourishing in my conservatory.
Actually I started writing this post Yesterday so it started with how wonderful the weather was, but as I couldn't finish it yesterday, I started writing it today again only to tell you weather has changed it has become quite cooler and is raining, I am kind of happy as I don't have to feed my plants with water!.  Hope fully I will finish this today before the weather changes again :). But, I do love sun in the morning and rain in the night, serves my purposes you see.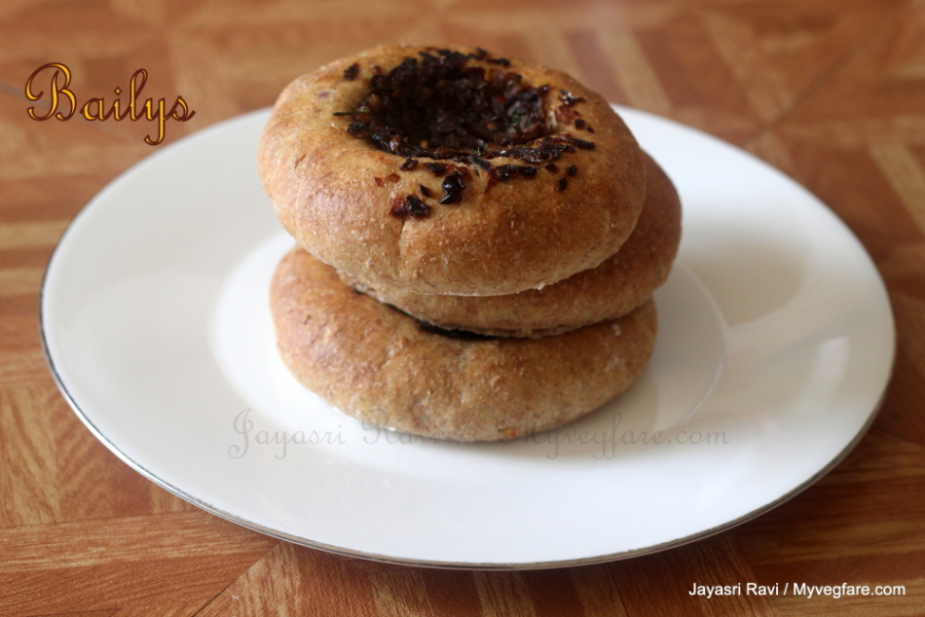 Coming back to this post we are in the fifth month of
''We Knead to Bake''
started by
Aparna
,  I know I have missed the last three posts, which I will hopefully post by the end of this month, I have baked them but was unable to post by time,  my priorities keep changing but I don't want to discontinue, as I love baking breads. Then Aparna asked us to bake Bailys, and this was the first time I heard about this bread, The shape of the bread looked more like a Bagel but is totally different as Bagels are boiled before baking and have a hole in the middle, these are daughter's favourite, but Bailys have to be just baked and it has depression  in the middle with filling in it, I would have gone overboard with fillings only this time I stuck to the recipe, you can feel free to choose any toppings you would love to enjoy with it may be I might try new toppings next time.
This is what Aparna wrote to us about Bailys and I would like to share it in her own words..
The name Bialy comes from Bialystocker Kuchen which translates as ''bread from Bialystok'' which is in Poland.  Apparently, Bialys are rarely seen or made in Bialysotck these days ( I wouldn't know if this was a fact and I'm going by hearsay).  In the days when there used to be Bialys in Bialystock, it seems the rich Jews ate Bialys with their meals, while the Bialys were the whole meal for the poorer Jews.
In the early 1900's, many Eastern Europeans, including the Polish, immigrated to the US and settled down in New York.  Naturally, they also brought their Bialy making skills with them and that is how the New York Bialy became famous.  What lends Bialys are their chewiness is because of the flour that is high in gluten.  Hence using a bread flour if available would be perfect, You can also make these with all purpose flour, but the resulting Bialys may not be that chewy. Alternatively you can add wheat gluten for 3 cups of flour. So, it is not shiny on the outside with largish puffy bubbles on the inside.  A good Bialy should have springy soft crumb and a chewy and floury crust. Bialys are best when eaten within 5 to 6 hours of making them.

BIALYS
Adapted from King Arthur Flour
INGREDIENTS:
350 grms Flour ( 175 grms Bread flour + 175 grms whole meal plain flour) or (3cups All purpose flour  + 1 tbsp vital wheat Gluten )
1 tsp Active Dry yeast
1 tbsp sugar
1 tsp salt
1 and 1/4 cup warm water*yeast
FOR THE FILLING:
2 Large onions ( or 3 medium sized onions)
1 tbsp Oil
1 tsp Garam masala powder
1/2 tsp cumin powder
1/2 tsp Coriander powder
3 to 4 tbsp of fresh coriander leaves
1/2 tsp salt
METHOD:In a large bowl take yeast, sugar and 1/4 cup of warm water mix well and leave it for 5 minutes when they start bubbling add salt and flour, then start adding water until the flour comes together to form a dough, knead for a few minutes to form into a dough, leave it for 10 minutes then start kneading the dough for at least 10 minutes, into a smooth elastic dough but not  sticky.  Shape it into a ball oil the dough and leave it in a large bowl covered with a cling film in a warm place until it is double in size**At this point if you are not going to bake immediately you can refrigerate the dough and the day you are going to bake bring it out to room temperature and proceed with the rest of the recipe.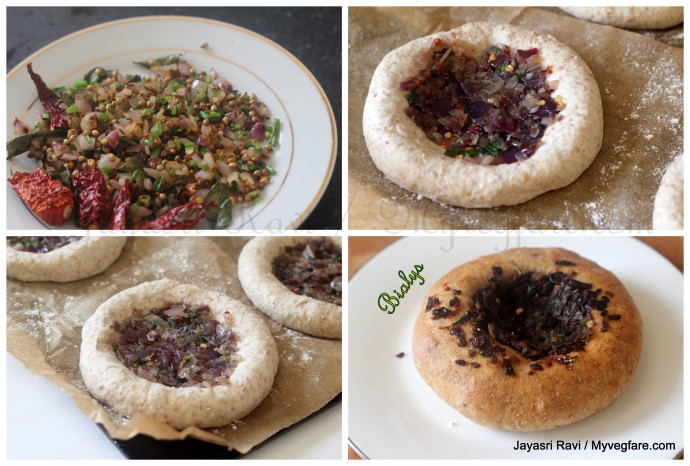 Meanwhile make the filling, chop onions, In a pan heat oil add tsp of cumin seeds when they start spluttering add chopped onions and saute add a tsp of salt, which makes the onions soft quickly, switch off the stove to this I added fresh coriander leaves and mixed well, keep aside until it  is needed and cools down.
Once the dough is double in size, sprinkle your work surface with flour and place the dough on it divide into 8 equal parts and shape each one into a smooth ball by pulling all the ends together on one side and form a smooth ball.
Place the rolls on a lightly floured baking sheet and cover them with a towel, let them rise for about one hour,
take one ball at a time and using your fingers form a depression in the middle.  Hold the roll with the help of your back of your palm keep pressing making a dent in the middle, turning it around, using the other palm as a shield so it stays round.
Check out this video on how to make, shape and bake Bialys.
Make the depression wider without making a hole but make it quite thinner, prick the center of the dough so that they don't rise fill this dent with caramelized onion filling, let the dough be puffy around the edge don't flatten it out, Brush the outer circle or the puffy dough with milk, As said earlier you can choose any toppings, I have used caramalized onions but no cheese or paneer.
Bake it for 15 minutes in a preheated oven 450 degree F / 230 C / Gas mark 8*** until golden brown in colour. Cool on a wire rack, serve it warm or if stored it in an airtight container, when serving it warm it slightly and serve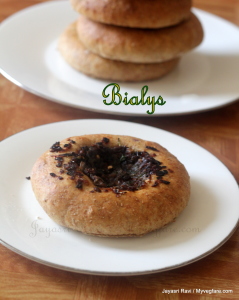 VARIATIONS ON FILLING
you can top it with caramalized Onions with Cheese or paneer ( Aparna suggests that add Paneer just 5 minutes before the end of your baking otherwise it will get burnt )
You can omit the masala spices but add sugar and have a sweetened caramalized onion instead
Chop tomatoes with finely chopped green chillies and coriander leaves just like a Tomato salsa and add it in the filling it might be bit soggy because of juice in the tomato if you don't like that way you can saute the tomatoes dry it out and continue with the filling.
You can even try it out chocolate or some fruit and sugar filling.
NOTES:
* Do not add water as stated once you take the flour start adding water little by little until the flour reaches the dough consistency, which should not be too hard, but soft and can form a elastic slightly sticky dough. Once when kneaded will form a very soft smooth dough. I just added the water and it became too much and I had to add more dough. as different flours have different textures.
** I kneaded the dough and placed it in a oiled bowl and left it in the fridge overnight, so it raised slowly in the fridge, I took it out of the fridge and left it around 45 minutes for it to come back to room temperature and proceeded with the recipe.
*** I baked my Bialys at Gas Mark 7 as my oven gets heated up too much and I usually bake everything at a bit low in temperature indicated by the recipe otherwise I end up with a burnt top !!. I would say know your oven and bake.
Bialys were really delicious, children enjoyed it .., thanks for the lovely recipe...Aparna.
This Bread is also Yeast Spotted