Hi Good Morning, Good evening or Good Night, I hope some of you it will be morning and for some of you late in the night or for some of you late evening. So, whatever it is I greet you all to my space here, with this lovely recipe, I love Okra and I suppose lot of you do as My family or Me!, I Introduced Okra to my eldest as ''Buddishaali Kaayi'' meaning A veggie which helps to keep your Brain very sharp and also Increases your memory power, from her first year I think, that is a long time I started introducing her to vegetables with connecting them something or the other like the potatoes which are rich in starch and helps in growth!, May be introducing her to veggies like this made her eat all the vegetables raw or cooked, she used to eat this Bhindi/Bendekaayi raw sometimes if I wouldn't see, can you believe a small girl eating Bitter Gourd well, well, she eats it and like me she loves it without the bitterness taken out of it, everybody especially the elders in the house who hated to eat it!, I am quite proud of her that she loves to try every vegetable.
I make this Bhindi Fry in two ways, This is one of the ways, will post the other one next time :), This is lovely spicy fry with all the spices tingling your tongue and arousing your senses and goes so well with chapatis, parathas or pulkas. I served this with my Mashroom Parathas. Everyone of us loved it.
BHINDI/OKRA STIR FRY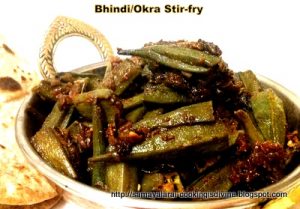 INGREDIENTS:
500 gms Bhindi/Okra
2 Tomatoes
2 Big Onions(1 cup)
2 sprig curry leaves
1 tbsp Chilli Powder
1 tsp Garam Masala Powder
1 tsp Amchur powder
1 tsp Turmeric powder
1 tsp Mustard seeds
3 tbsp of Oil
Salt as required
Grind to Powder:
Dry Ingredients:
1/2 tbsp Coriander seeds
1 tsp Cumin powder
1 clove
1/2'' Cinnamon stick
Dry fry all the above seeds and dry spices until they change colour and gives a nice aroma
2 tbsp of Anardana seeds
Dry Grind all the above Ingredients together
METHOD:
Wash and wipe the Okras clean, Remembering will not just wash away the dirt on them, it is best to use a cloth or a kitchen cloth to wipe it clean and wiping it clean also helps in stir-frying the Bhindis well, as the water content makes them gooey and will not hold them together and they might get mushed up :(.
Once they are cleaned, cut them into 2 to 2 1/2'' pieces, add the Garam masala powder, Amchur powder and leave it for kind of marinating until we need it.
Chop the tomatoes and onions, Heat 2 tbsp of Oil in a Kadai/wok/Pan add mustard seeds, once they crackle up add chopped Onions and curry leaves and fry until they are transparent then add chopped Tomatoes Saute them until they are well cooked now add Turmeric powder and chilli powder and fry for few minutes.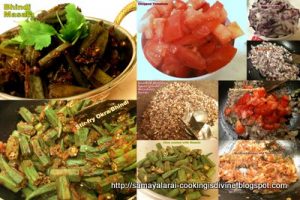 Once they are well cooked add the Marinated Okras and fry them in a medium flame with another tbsp of oil in the middle of the process and saute them
Meanwhile Grind to powder all the Ingredients under that heading finely and keep aside, when the okras are still cooking.
Once the Okras are well done, add this powder and required quantity of salt, Saute for few more minutes and 5 to 10 minutes before switching of close the lid and leave the dry curry for few more minutes so the Masala powders are well absorbed in them.
Serve it with anything you prefer to eat it, I served it with my Mushroom parathas.
I am sending this to Priya's CWS event Guest hosted by me as CWS as - Pomegranate seeds.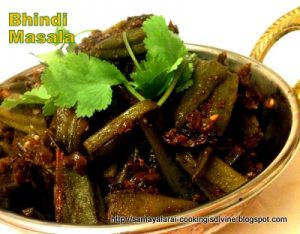 Hope you all like my Bhindi Masala