I think I have around 6 to 7 of this stuffed Brinjal recipes!, here is another one of them it is lucky you know It is already getting posted, poor others which are still in a draft state hoping to see the screen soon. Again this one I found from this blog called A2Z Vegetarian Cuisine, which has numerous Gujarati recipes in their blog, As always I look for the vegetables I have and cook before they hit the bins and on the way was small Brinjals another day or two it would have hit the bin, and this recipe caught me, beautiful photograph, not like mine though. check out her blog for more information on Brinjals.
I made a small change as I had just around 7 small Brinjals I couldn't feed my army, I decided to Increase this Dry curry with an other acceptable vegetable potatoes, she had used only two I used around 7 to 8 of them.
Here goes the recipe….
BHARWA BAINGAN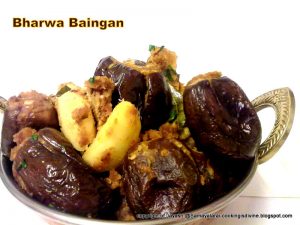 INGREDIENTS:
6 TO 7 Small Brinjals
7 to 8 medium sized Potatoes
3 tbsp of Roasted Bengal gram flour
3 tbsp Roasted peanut powder
2 tsp Coriander powder
1/4tsp cumin seeds
1 tsp Mustard seeds
1/2 tsp Turmeric powder
1 and 1/2 tbsp Chilli powder
3 tbsp grated dessicated coconut
1 tsp Finely Chopped Garlic
1 tsp Amchur powder
1 tsp Sesame seeds
1 tsp Cumin powder
4 to 5 tbsp of oil
chopped coriander leaves to garnish
1 sprig of curry leaves
Salt as required
METHOD:
In a bowl mix all the powders cumin, asafoetida, coriander, turmeirc, peanut, bengal gram flour, coconut, amchur, garlic, sesame seeds mix everything together and keep aside with a little bit of salt.
Take the potatoes, peel them cut into nice big chunks and boil them in a bowl, with a pinch of salt, by the time you get the Brinjals ready the potatoes would have cooked.
Meanwhile wash the brinjals cut their heads of slit them into 4 not completely till the 3/4th of the vegetable so they stay intact, fill each one of them with ready mixture, I coated all the Brinjals with oil too… and set them aside.
Next take a wok heat 4 to 5 tbsp of oil add mustard seeds, cumin seeds, when they splutter and change colour add the stuffed brinjals slowly roast them and cover it with a lid add a sprig of curry leaves, Meanwhile your potatoes would be ready, drain out the liquid, then coat the left over mixture to the potatoes with a 2 tbsp of oil, and then add this with Brinjals in the wok, Now and then take out the cover and saute it carefully not to break the cooking cuties, add a one or two tsp of oil so they get roasted very well sprinkle a little bit of water while coating the potatoes, add a bit of salt (remember that you have already added salt while cooking potatoes and in the mixture fillling the Brinjals), When they get cooked well and the potatoes too get roasted well, it's well and done.
I am sending this to Flavours of Gujarat event hosted by simply sensational food.