Hi everybody, hope all of you have been doing well, well, I have not been, after a long time I have been stuck with Migraine, but I had to do this really, as I cooked everything and I want to share with you all ! as how much I enjoyed cooking and the family enjoyed eating.
🙂 well, I didn't mean this Rice, H hates Beetroots, kids and me we love this veggie, even though I don't like it when it colours everything around you. I always cook this veggie when H is not at home !, so this was one of those days I made this rice.
BEETROOT RICE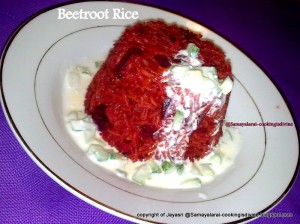 1 Cup of chopped Beetroots
1 and 1/2 cups Basmati Rice
4 to 5 sprigs of coriander leaves
2 sprigs of curry leaves
Salt as required
2 Bay leaves
2 cloves
1'' cinnamon
1 tsp cumin seeds
1 tsp of Coriander powder
1/2 tsp of cumin powder
1/2 tsp of Garam masala
4 tbsp of oil
1'' Ginger piece
3 Cloves of Garlic
1 Onion
3 to 4 Green chillies
2 to 3 tbsp of fresh coconut
First of all wash the beetroots, I had small beetroots so I used around 3 of them, peel and chop them into small cubes and set aside.
Peel the skins of Ginger, Garlic and onions and chop them and grind them with all the other Ingredients under the heading wet Ingredients and keep aside.
I always use my big wok or Pressure cooker when making pulav, Heat 4 tbsp of oil, add the whole spices, cumin seeds, cloves, cinnamon, Bay leaves after a minute add the Beetroots and the Grounded masala paste and keep stirring otherwise it starts sticking, fry it some more time, then add all the spice powders, curry leaves and then Water.
I always add
1 : 1 and 3/4th
of water while cooking Basmati rice, and for 1/2 cup add an other 3/4th cup of water.
Then wash Basmati rice just once and add it to the wok or pressure cooker with required quantity of salt mix well and chopped coriander leaves then close the lid.
I usually keep the flame completely low and leave it for exactly 20 minutes and absolutely you are right, it gets cooked very well. If I am using a pressure cooker I just put it off after 15 to 20 minutes, but if it is wok I can lift up and see right ?.
Well, That's it, the Rice is ready, allow it cool a little bit, and you can separate the grains carefully and serve it with Raitha of your choice.
Something things you should know about Beetroot,well you might be aware of it, I suppose it's nothing wrong in writing again though isn't it ? First of all I am no authority on this, this is from lot of sources.....
Beet roots (Beta Vulgaris) is Rich in Vitamin C, Calcium, Phosphorous and Iron. As it is very rich in fibre, low in calories and little fat they say that improves bowel movement so it is good for people suffering from Constipation, It is good especially relating to digestive and the blood. Pigment molecule betamin protects against oxidation stress, It reduces toxicity cleans the liver, gall bladder and kidneys. It increases Stamina, Blood cell count, purification of blood, It helps in lowering cholesterol too. It is said that people suffering from Anemia, Alzheimer's and Cancer.
They say drinking Raw Beetroot juice than cooking it keeps all its qualities intact.
I sending this to Healing food Beetroots hosted by
Priya of Mharorajastan
, who has some fabulous recipes, I always look for different style of cooking, spices etc., which I see in her blog. The Healing food event was started by
Siri
. Priya has written a paragraph about the Beetroots check out her blog and she has got this from this
Info source
. check that out too...