Hi friends, Hope you are all doing well, I have missed lot of recipes, hope soon I will sit and check them out!!, I have made new friends, which is of course a very happy thing, Blogging has given me new friends , new interests, and a lot of different out look towards life!!.
As I have always written, everyday I sit to post and my eyes gets locked with something, new, innovative, lovely photography and an interesting write-up!!, and I end up seeing them!! and forget what I sat for..
Coming back to the recipe!!, Andhra vantalu ante ma ayniki chaana ishtamandi!!, My friend U was asking over the phone, Jayasri yemi chestha unnavu ?, Andhra vantaalu chestha unnanu, Inti ki raa thinesi yetalu undi anni chepu, anta chepinnanu, Aaa Ammayento srivaari ki pani late ayindi anta next day vacchindi!!, Anni dishes taste chesi, bhagaane chesinaavu Jayasri anta remarks Icchindi!! hahaha.., If only my friends read this they will laugh out loud, hope I wrote telagu properly!!, she keeps teasing when I insert lot of Tamil or kannada words when I speak telagu, but always encourages me and talks to me most of the time only in telagu, because I have told her strictly I want to learn to speak telagu properly, and she should talk to me in the same!!, howzit ?
Let me come back again to the recipe...
So I prepared all these and we had a Andhra cuisine ....
BEERAKAYA PAALU POSINA KURA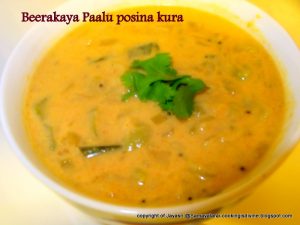 2 Medium sized Beerakaya/Ridge Gourd
1/2 tsp Mustard seeds
5-6 Garlic pods
a sprig curry leaves
1 large onion
2-3 green chillies
1 tsp red chilli powder
1/4 tsp turmeric
1/4 tsp coriander powder
salt to taste
2 cups water
3/4 th cup milk
coriander to Garnish
Heat tbsp of oil, once it is hot add mustard seeds after they splutter then finely chop or crush the garlic and add finely chopped onion, Green chillies and curry leaves and saute them for a while until onion turns transparent, then add peeled (do not throw the peel keep it away) and chop and cube the Ridge gourd.
Once it is done add the Beerakaya pieces close the lid and cook them well together. Add the spices mix well and allow it cook for further 5-10 minutes, Once it is done add 2 cups of water and allow it to boil, and boil it until it is almost evaporated.
Then start addin paalu (milk) slowly and stir continously other wise milk might curdle!!, if it doesn't thicken mix rice flour (1 tbsp) with water and pour it into the pulusu
Once it gets thickened add chopped coriander leaves and serve hot with Rice.
NIMMAKAYA PAPPU, BEERAKAYA THOKKU PACHADI AND KAKARAKAYA KARAM
I Keep making these all the time, but with a little difference, like pappu (dal) which we always make for festivals, but I had not used Nimmakaya in it!!, and of course the Bittergourd stir-fry I have used everything in it most of the time, but the little powder mixture in it!! :)), and of course Beerakaya thokku pachadi is what I make it as chutney, which I have already posted earlier (my version), this is a little bit different . So here is how sailu makes it...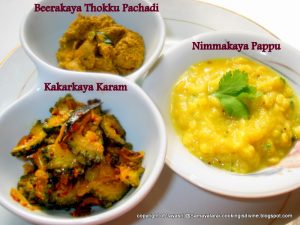 1 Cup Tuvar dal
2 to 3 green chillies
2 to 3 sprigs of coriander
salt to taste
juice of small lime
1/4 tsp Turmeric
SEASONINGS:
1/2 tsp mustard seeds
1/2 tsp cumin seeds
1-2 tsp oil
1 sprig curry leaves
1 dry chilly
3 cups of water
In a pressure cooker cook dal with 2 1/2 cups of water with turmeric, until soft, Take it out and mash the dal add another 1/2 cup water, and allow it to boil in a low flame, add required quantity of salt, then put of the stove and squeeze lime juice mix well and keep aside.
In a wok heat oil, add mustard seeds once it starts spluttering add cumin seeds, put of the stove and add curry leaves and chopped coriander to it and put the tadka to the dal, put of the stove then serve it with hot rice with a dollop of ghee.
2 Peels of Ridge Gourd (skin of ridge gourd)
2-3 green chillies
1 small (flake) Tamarind
1-2 dried chillies
2 tbsp Minapappu/urad dal
1 tsp cumin seeds
1 tbsp oil
1/2 TSP Mustard seeds
1 tsp oil
1-2 red chillies dry
curry leaves
a pinch of asafoetida
METHOD:
Heat a tsp of oil in a wok fry dal, cumin seeds and red chillies and keep it aside.
In the same wok heat a tsp of oil, chop the skin or peel of the Ridge Gourd and green chillies and fry them for a 5 to 6 minutes then add the tamarind flake and fry it too until they are quite soft, keep them aside.
Grind all the above ingredients when they are cool into a coarse paste.
In a wok heat oil and add the seasonings fry for 2 minutes and add it to the coarse paste. Now it is ready to devour with hot rice, chapati, dosa etc.,,
1/4 Kg Kakarkaya/Bitter Gourd
1 1/2 tbsp Oil
1/4 tsp Turmeric powder
1 Onion
Salt to taste
1 tbsp of Jaggery (optional)
1 tbsp Oil
1 tsp Chenna Dal
1 tsp Urad Dal
1/2 tsp Mustard seeds
1 sprig curry leaves
4 Garlic cloves
4 Red chillies
Slice Bitter Gourd into thin circles add turmeric powder and a little bit salt and keep it aside for 1/2 an hour.
Slice the Onions
Grind Garlic and red chillies into a coarse powder and keep aside
Take a wok heat oil add mustard seeds when they pop add the dals and fry for few minutes until they change colour add sliced onions and saute for 5 minutes until it is transparent then add curry leaves and the Bitter slices which was kept aside and saute for few minutes may be 20-25 minutes, until it is cooked well.
Once it is well cooked add the coarse powder mixture and required amount of salt.
Mix everything well together and allow it fry for few more minutes and serve it with hot rice.
PS: Actually sailus says that when the Bitter Gourd is sliced and left to marinate for few minutes, She squeezes the juice out of them and adds it to the wok, But I have already told you in many of my Bitter gourd recipes, I do not throw away the water as the juice is very nutritious, and which really helps in reducing the sugar level, that is why people who have Diabetics drink these juice!!.
BUT LAST LAST BUT LEAST IF OU DO NOT THROW AWAY THE JUICE IT IS GOING TO VERY BITTER!!, But My family (except my twins who hate them but I wouldn't leave them until they eat at least 2 spoons!!, and they call me Bad mother!!) H, A and me love to eat it just the way it is !!.
I am sending this recipe to Lakshmi Venktesh of
Kitchen Chronicles
, who is hosting this month's Tried and Tested Recipes from Sailus Kitchen, Tand T was first started by
Zlamushka
of Spicy kitchen.