Hi everybody, Hope you are all doing well, I was not really into posting this recipe, as I am not doing well, I am so lagging behind with so many things to do in my list.  But, I have not posted anything on time, today I just thought if I don't do it.., I will never do.., this is a blog post which is in my drafts for too long as many of them are.., Coming to this post, I make this now and then usually during Krishna Jayanthi few years back, I made these and took photos too in my old mobile, but every year I will keep thinking I will post it on time but never made it to the blog post. My photos aren't too good as you can see, but don't hesitate it tastes divine, go ahead and make it.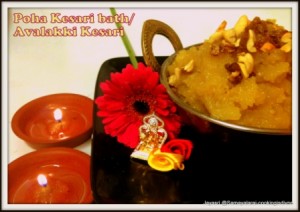 As I have said earlier, even though being an Iyengar, born and brought up in Bangalore has changed a lot of things in our life, that is how Amma brought us up, we celebrate both Kannadiga and Iyengar festivals equally, yes I know we used to enjoy loads of goodies to eat when we were young, later stages it became too much for us to eat so many sweets and savouries amma prepared for the festivals as everything was double, the same goes with  this festival, even though we do not have Krishna Janmashtami ( that is the day Krishna was born that is the Ashtami ) which is celebrate through out kannadigas and the rest of the regions, and we Iyengars celebrate the Krishna Jayanthi, which is falling on the 8th of september this year because of the Adhika maasa (extra month) according to the Hindu calendar, otherwise it usually falls a day after the Janmashtami, This Krishna Jayanthi is a very big festival for Tamil speaking Iyengar community.  But then as I said being brought up in Bangalore, mum celebrated Krishna Janmashtami as well, not like preparing too many Bakshanams (sweets and savouries), she used to make kheer or some kind of sweet.  I have adopted too many of the things she practiced and I do the same thing.  My MIL never said anything about these things as even she by heart felt too much inclined to the Kannadagi culture and tradition and appreciated it too much.
So, as today was Krishna Janmashtami, I made this rather I could say I usually make this sweet as Krishna loved poha, as we all know from his stories, and for the rest of the world who do not know about this you should read about his stories if you are interested may be on online or if you could get hold of any books.  Avalakki / Poha is very important ingredient in Krishna's life connected to Sudhama's story.   I will try tell you in a shorter version what the story is about, Sudhama, Krishna's friend was very poor and sudhama coming to know that krishna had become a prince meets him in his palace to tell him about his problems, his wife would have given poha in a small pouch to give it to the Lord as they had nothing else in the house to eat except this as the couples feel not to go empty handed to meet him.  Krishna embraces his old friend asking him if everything was well at his end, sudhama becomes too shy to tell him his problems and says everything was fine, just then Krishna notices the pouch hanging in his waist and asks sudhama what his wife has sent for him, sudhama says he has brought poha, which krishna adores, but was hesitating to give him.  Krishna playfully snatches the pouch and takes a handful of it and puts it in his mouth and goes for a second and then for a third when Rukmini stops him from eating it and says that's enough and says she also has the right to share it and tells krishna, whatever he has given would last for generations to come. Sudhama never understands anything but bids goodbye enjoying his day with his childhood friend and returns home sadly thinking what to tell his wife as he couldn't ask any help at all from his friend.
Funnily when he comes back to his village and to the place where his hut stood he finds a big palace, he looks around and thinks what has happened to his family. when he walks up to the front door to find out, his wife comes out dressed like a princess, astonished sudhama asks what happened and his wife describes how everything suddenly changed like a Maya ( Magic ), that's when sudhama remembers Rukmini's words and why she stopped him. His two fist full of Poha had given him all the riches in the world, so even today Poha and butter ( his favourite ) is kept in front of the God for Neivedhyam ( prasad).
I sometimes when time was short would soak poha in milk then add fruits, sugar and cardamom. sometimes just keep poha soaked and squeezed, adding sugar, cardamom and fresh grated coconut. like this I keep making something with poha to make it more interesting, but this has become our favourite.. Avalakki Pineapple Kesari... want to know how I make it... do read...
BEATEN RICE / POHA / AVALAKKI  PINEAPPLE KESARI BATH
Cuisine: South Indian
Cooking time: under 30 minutes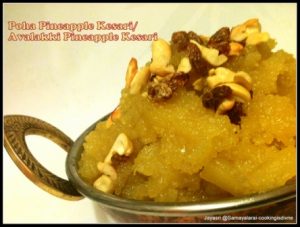 INGREDIENTS:
1/2 cup coarsely crushed thick Poha / Avalakki
3/4 th cup Sugar
2 cardamom pods crushed nicely
1/4 Ghee  ( Clarified butter )
1 tbsp of Khismish ( Raisins )
1 tbsp of Cashewnuts
1/2 cup milk
1 Cup water
1/4 cup Chopped Pineapple ( or grated pineapple )
few strands of saffron soaked in 1 tbsp of hot milk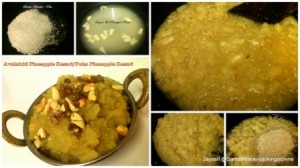 METHOD:
First you need to crush or coarsely powder thick poha, If you are using a mixie (Indian grinder), pulse it for every three seconds so its broken coarsely.
In a tbsp of warm  milk soak few strands of saffron
Wash crushed poha quickly - what you need to do is pour water clean it quickly let it sit for a second immediately drain the water, do it at least twice so you get rid of the dust, drain the water completely if needed you can press the water out of them and leave it until needed.  The process of doing this should be quick.
Check my notes ...
In a Non stick wok / pan , In the given amount of  water add chopped pineapple pieces and cook for approximately 10 minutes in a medium flame with a closed lid, after few minutes  add sugar let it dissolve completely, add milk then mix it well together, Bring the flame to low then add the coarsely crushed poha / Avalakki. Start bringing them all together, it starts cooking and starts thickening close the lid for few minutes.
until poha gets completely cooked and absorbs everything and the flavours.
Meanwhile in 1 tbsp of Ghee, fry chopped cashews and Raisins, and keep aside.
Open the lid, add dissolved saffron, cardamom powder and and rest of the ghee**., combine well together close the lid keep it in a low flame for few more minutes until it is well cooked, and almost dry.
Garnish the Poha Kesari with cashew and kishmish (raisins)
Serve it warm or cold and enjoy...
It is totally delicious and addictive.
NOTES:
First time when I made I hadn't washed the Poha, which I was not happy with, you can see the photos just like that, which I have posted.
Next time I cleaned poha quickly because  if you leave it for more than 5 minutes it will swell up and  it absorbs water  as it is already crushed or broken. Just the same method used for Gojjavalakki (spiced Poha with a Tangy flavour)
This way of cleaning it also helps in cooking well, and absorbs everything well.
After you soak saffron, leave it for sometime that is until it is needed , then with your finger tip, keep pressing and  kind of squeezing it in the bowl , this helps in realizing the colour to its full extent.
You can also add more ghee if you want.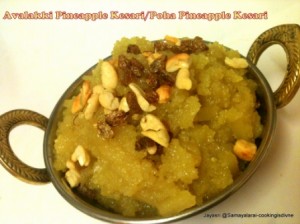 Linking this to :
South Indian event #1 by Anu
30 minutes mela of Srivalli's