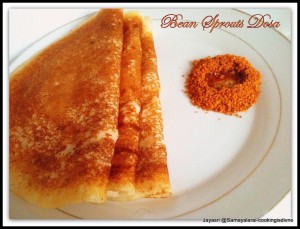 Hi Guys, I think I am coming slowly into schedule now, I have got one more post, no sorry two more posts to go by tonight then I will be right on track with you all, This post is for Blogging Marathon started by valli, for Group 2 Day 1, I chose to do Fermented recipes… here I am with my first one.
As you all know Bean Sprouts are rich in proteins, they are not a favourite in my house, My kids don't mind it with noodles but adding them salads or things like that they don't want to eat it. I always try to use it in different ways so that they eat these sprouts and will not know that they have not eaten it :).
Any South Indian wouldn't say no to Dosas right ?, so why not use them here and the kids wouldn't know, The taste was a bit different, questions asked, mum answered, " you know your mum gives you good food and she changes some ingredients which are more beneficial for you as you are growing up kids etc.., " A small lecture, and faces and that's it all well settled, I know how to black mail my kids through love and emotions !!, and they totally fall for it. Well, anyway I haven't done anything wrong right ? I just want them to eat good food.
BEANS SPROUTS DOSA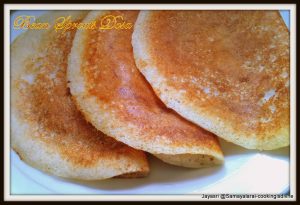 INGREDIENTS:
4 Cups Sona Masoori / Raw rice/ or any equivalent rice
1 Cup Kusabalakki / Par boiled Rice / Idli rice
1 tsp Methi seeds
1/2 Cup Urad dal
2 Cups Bean sprouts ( around 100 to 150 gms)
1 and 1/2 tsp Salt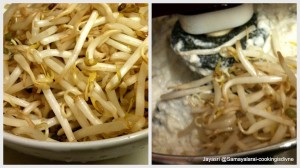 METHOD:
Wash at least twice and Soak both Sona Masoori and Par boiled rice and Methi seeds together separately. Wash at least and Soak Urad Dal separately for at least 6 to 7 hours.
Using a Grinder or a heavy duty Mixer Grind the rice and methi seeds first when grinding this add washed and drained Bean sprouts with it into a smooth paste while grinding add 1/4 of water in intervals so that grinder doesn't do really heavy duty**.
Take out the finely ground rice batter and put the soaked urad dal draining out the water and start grinding it into a smooth paste, add a tbsp of water every now and then, The batter will become so soft and you will find that when you take it in hand it doesn't stick to your hand.
So now both the batter is ready. Mix them together well, add salt and leave it to ferment for at least 8 hours.
Once the batter is fermented add water to make it into dosa / pancake consistency.
Heat a Tawa or Girdle, when you hold your hand on top of it, you will feel a warmth on your hand that means to say the tawa is quite hot now and it is ready to make pancakes.
Take a ladle of the batter and pour it on the tawa swirl it around and cook it with a closed lid for few minutes say around 8 to 12 minutes, cook on both sides, remove and serve it with choice of your side dish.
I served it with Chutney pudi.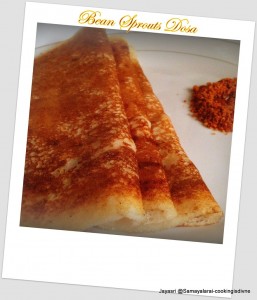 My Tips :
When making Dosas, keep the flame in medium, tawa gets very hot by the time you make 3 to 4 Dosas, sprinkle a bit of water and slice a onion rub it over the tawa this makes the tawa cool down a bit and seasons it and you can make as many Dosas as you want like this.
Closing a lid cooks the top of the Dosa too.., If you don't want you need not have to turn it over.
**About Grinding the batter in Grinder -I mean to say, once it starts grinding the batter starts to thicken and you should be careful when using these appliances so they don't take too much strain, Do not allow the machine to get too heated up while grinding, give it time to cool down and grind the next this way appliances have long life, the same way while grinding when the batter thickens keep adding water for it loosen up a bit so they grind smoothly, if you add extra water by chance when grinding for Dosa it is alright as we add extra water to make it into Dosa / pancake consistency, But, you should be careful when grinding for Idlis do not add extra water too much let the batter be of cake consistency.
If you are using a Mixer ( Indian mixie ) be careful when you are grinding batters like these give time every ten minutes and then grind to a smooth batter, otherwise you will loose your appliance quickly, and even the batter will get heated up which will give good dosas
This is my experience to get best dosa and Idlis wet grinders are really good, as I have used both of them.
Check out my other blogging friends do this marathon with me…here….
Check out the Blogging Marathon page for the other Blogging Marathoners doing BM#15