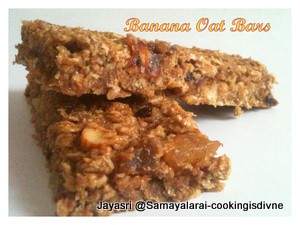 Hi everybody, hope you are all doing well, It's time for an SRC again :), I love this, don't you all too.., because that's what we do as Food bloggers, browsing through recipes.., and you get to browse through recipes in one particular blog for one whole month!, and then start Book Marking recipes, then the next step is pondering what shall I execute, then get confused with which one is the best... and yet again I prefer the Healthiest one, I simply can't resist making something much healthier for my kids than for blogging purposes. Totally mum in me wins in the end :(...., My kids don't appreciate.. this attitude.... at all..., well they have no other choice.
As you all know about The Secret Recipe Club which we bake or cook from each others blog, which we are secretly assigned to. This month I was paired with Sweet and Savoury Tooth of Heather's, was I happy - yes immensely, I loved her blog, she has beautiful recipes and absolutely delicious pick me up from the screen pictures..
As I said I have book marked a few of her recipes, which I would love to try out, she has made lots of cookies, cakes and bars.., The best thing I found was I could easily adapt them to make eggless one. I enjoyed her writing too.., Her baby and her hubby are so supportive and enjoy blogging with her. The cute post of her little girl dresses as a duck for Haloween was the best one :), and she rumbling through her sweet reminded me of my kids when they were small ( not too small as hers they were in their 5th form when I came here first 🙂 ).
Coming back to this recipe.., Like Heather, I had loads of Banana at home, I have been very busy from past two months on the home front, as always blogging is the last thing I would like to do, I am on the move, changing houses is such a scary thing.., Hopefully by mid of December I will settle myself in my new abode :), as I said earlier my bananas needed to be taken care off, I don't freeze them, Heather says she freezes them, which I didn't know, that's something I learnt, I try using them up or my H will eat them or I end up baking something, When I saw this recipe I was really interested as I always I think about my eldest daughter who doesn't like eating anything in the morning, If you ask her she says she feels sick, tired, no time, and gives me hundreds of reasons, I get so tired, irritated listening to all this..., So now and then I make these bars which she likes to munch on going to school with a glass of milk. I loved this recipe because of Bananas. I thought she would have eaten a fruit too, I know you would think silly woman 2 bananas for the entire week, well actually no as we four are gobbling those little beauties.., It's just a simple satisfaction - as goes the saying - something is better than nothing :).
Let me come back to the topic, Yes - The bars I made them Eggless and made it more healthy too.., I get carried away when I am baking don't you ?, Lots of things go in my mind first I want to make it eggless then how can I make it much more healthier so my kids benefit from my fit for baking... so here goes the recipe with my changes to it....
BANANA OAT SQUARES/BARS - HEALTHY AND EGGLESS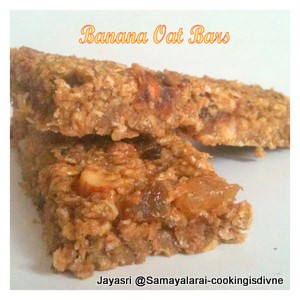 Recipe adapted from Sweet and Savoury Tooth
Please do check out her blog for the original recipe and of course the photos, they look gorgeous than mine.
INGREDIENTS:
7 3/4th cup Old Fashioned Oats
1/2 Cup Wheat Germ
80 grams Butter
1/2 Cup Applesauce
200 gms Soft unrefined brown cane sugar
1/4 tsp salt
2 (weighing 120 gms without skin) Mashed Bananas
260 gms Dry fruits (Raisins, Amonds, hazelnuts, Dates, Mango, Papaya, Walnuts, Pineapple )
1/4 cup Sweetened coconut
1/4 Cup Choco Chips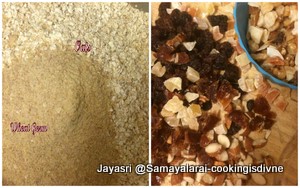 METHOD:
First of all I chopped all the nuts and Dried Fruits I was going to use. Then mixed both oats and Wheat Germ thoroughly and kept aside.
Then turn on the oven to 350 degree F/Gas mark 3
Then peel the skin of Bananas chop them and the apple sauce blend it the mixie and to make it into a nice smooth paste.
To this add Brown sugar and beat it well ( I just used my spatula - a hard one)
.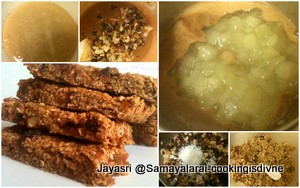 In a pan I had melted the Required quantity of butter to this I added my dry fruits and sauteed for a minute as the Dates I used were soft If you have dry dates you don't have to do this step, so the dates came apart and mixed well with the other dry fruits.
Then I poured this onto the the bowl, to this I added the oats mixture stir in well until everything is well incorporated.
Spread on to a Greased pan or use a butter paper for lining the pan and Bake it for almost an hour, cool it and cut it into bars.
NOTES:
I changed the original Recipe by not using an Egg and not just walnuts but I used lot of dried nuts and fruits, reduced the quantity of choco chips and my extra Ingredient was adding Wheat Germ. and added sweetened coconut, I made this in Large quantity as I have a family of five to feed :).
MY VERDICT:
Don't keep licking into the mixture now and then, try not to eat it before baking, the mixture before adding the Dried fruits reminded me of the Rasayana we make for the festival Prashadam, after licking a little promise very tiny bit I couldn't resist adding coconut then after adding the dry fruits it was heavenly. Mmmm.., it was so gorgeous the smell of banana was superb.
So Do you think I need to tell how it turned out..., Guess what ... ?, my daughter picked up 4 pieces to take it school :), I think I have to bake them again..., this rate it will not last for a week..
The only thing I felt bad was all my baking utensils had been transfered to my other house and I was left with only my Pizza tray so I had to bake in it ending up making thin slices than a bit thick ones...
You could reduce the sugar and omit coconut for a more healthier version.
Reduce the quntity to 40 grams of butter and in place use more apple sauce instead....
You can even use Eggs, I would say you can use 2 Eggs for this recipe as the quantity is large...
Totally this is a winner of a recipe and you can make it much more healthier.., look no further if you want to eat healthy bars than shop bought ones...
Heather thanks for sharing this wonderful recipe.., I enjoyed Baking it and eating it and my family too..., I am a very satisfied mom today....
Thanks Angie I love you..., for assigning me to this blog... and Amanda for this wonderful club and all the hosts who are making it a success. Looking forward to the next one..., If you like to join SRC, check out our website...