Hi every body, how are you all doing
J
, It's high time I posted my Tried and Tested , rather I should say tasted recipes, this was another one I baked from Deeba's blog. This was an Eggless desert as the Title says and of course from whom it's been adapted.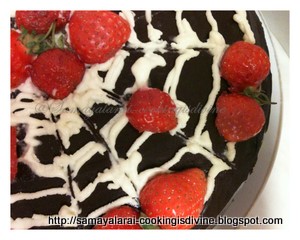 My Verdict
:

What a delightful cake, I was little wondering when it called for 2 cups of hot water and the cake dough was so watery!, But then I thought, One is avid Baker ( Barbara Bakes) and the other one is a passionate baker, twice tested and definitely would never fail. Have you seen what Deeba has written in left hand side column of her blog, which I always love
reading every time I go to her blog, it says –
Blog bakers, blog bakers, bake as fast as you can, make it and bake it, Ice it and spice it and mark it with 'B', pop it on to the blog for Bakers and me
Two blog bakers what can something go wrong, I made two cakes out of the same recipe, one I made Chocolate Based and the other one a plain one, as they were quite Big Cakes and I will have a hard time to finishing them off as too much sweet is not welcome at home. She asks you to prepare two cakes so you get four layers and the filling for each layer, pop into her blog for most beautiful photos and how she has done it or should I say created it, please do not compare with mine!
I did make the cake and then the frosting, but the decorating I had little helpers who helped themselves in decorating their own they wanted to try what deeba had done but it was in vain as my second daughter did something with beating the cream, well whatever it was the cream was so delicious and cake too….
I have copied the recipe to the tee…
INGREDIENTS FOR THE CHOCOLATE CAKE:
1 3/4th cups of Sugar
½ Cup unsweetened cocoa powder
3/4th Cup Vegetable oil
2 tbsp distilled white vinegar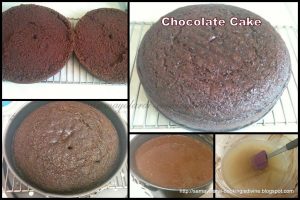 Preheat oven to 180° C, line the bottom of 1 9″ Spring form tin round cake pan.
Whisk together the flour, sugar, cocoa, Baking soda and salt in a large mixing bowl.
Next combine water, oil, vinegar and vanilla in a large bowl. Add to the dry ingredients and whisk just until combined, try to have no lumps if you have its ok she says, but I saw to it that they don't have any lumps.
Now put the batter into the prepared tins, then bake until a tooth pick inserted in the centre comes out clean, It really takes a long time so don't panic it nearly took 50-60 minutes that's my oven I suppose (her timing is 35-40 minutes for each cake.
Cool the cake on a rack for 15 minutes then invert them onto the rack, Leave the cake upside down (this helps in flattening the domed cakes) to cool completely.
I slice it into two layers and sandwich with Balsamic Strawberry and Cream filling recipe for this is below
J
After the filling rest the cake in the fridge for about ½ an hour, and then frost with chocolate Ganache to which recipe follows below
J
BALSAMIC STRAWBERRY AND CREAM FILLING:
300ml Low fat cream ( I just used Ordinary one)
200 gm strawberries, chopped
¼ Cup sugar ( I added a bit more after tasting it, as I thought my kids might it prefer more sweetness)
Place strawberries, sugar and balsamic vinegar in a sauce pan, and simmer till it becomes thick and jam like, I added vanilla extract in the end, and let it simmer for few more minutes . The cool it completely, beat cream to medium stiff peaks and gently fold in cooled strawberry mixture, taking care not release the volume of the cream.
This one is super, my kids loved it, thanks Deeba for this lovely cream filling
200 gms dark chocolate, room temperature
150 ml low fat cream, room temperature
In a double boiler method I melted the chocolate and 100ml of cream or you can microwave 30-40 seconds in a heat proof bowl. Stir well to combine both into a smooth Ganache, give the cake one basic thin coating with this and reserve some for piping decorations. Add the remaining 50 ml cream and mix until smooth.
If you want to see the lovely Clicks log on to her website for the pleasant to heart, eyes and soul clicks of this beautiful cake here is the link http://www.passionateaboutbaking.com/2011/04/bakingbarbaras-old-fashioned-chocolate-cake-with-
balsamic-strawberry-cream-filling-eggless.html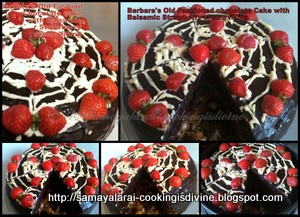 I am sending this to my own event Tried and Tested from Deeba's Blog of Passionate about Baking event of zlamushka's taken care of Lakshmi of Kitchen Chronicles and also "Only Baked" event started by Pari of foodelicious and hosted by Harini of Tamalapaku. I am sending this to Anu's event Berries – Strawberries