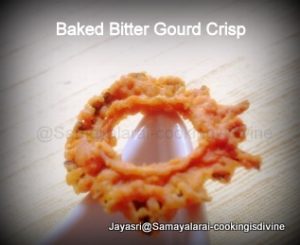 Bitter gourd is an acquired taste, not everybody likes eating Bitter gourd, This vegetable has loads of Health benefits It's juice is taken on an empty stomach to reduce blood sugar levels, good for Diabetic patients, Its bitter taste is the greatness of this vegetable :)).
Actually you might wonder if I said that this is my favourite veggie, right from my child hood. These kind of crisps is available ready made in any of the shops, but the ones which I like is from the Adayaar Ananda Bhavan. The same kind of crisps which were really delicious which I saw was from my sis-in-law S's MIL who had made it and also sent me some were quite awesome. I had to hide it from my H as also loves eating them. Let's straight talk about the crisps and how it was made.
As I don't want to eat deep fried, I always love making these Baked sinful and definitely do enjoy it with my curd rice.
BAKED BITTER GOURD CRISPS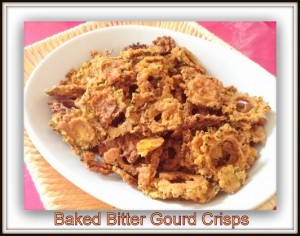 INGREDIENTS:
3 Medium sized Bitter Gourds
3 to 4 tbsp of Chick pea Flour ( kadale Hittu / Kadale Maavu )
1tbsp Chilli powder
1 tsp Powdered Tamarind *
1/2 tsp Coriander powder
1/4 tsp Cumin powder
2 to 3 tbsp of oil
1 tsp Salt
METHOD:
First of all chip off the two ends of Bitter Gourd, with a good sharp knife, cut Karela into thin rounds.
In a large bowl, add all the ingredients said above except for Chick pea Flour into the bowl with the Karela thins, mix well combined and leave it to marinate for an hour.
Leaving this to marinate with salt, gives out juices from the Bitter Gourd, Now to this add Chick pea flour accordingly and mix well until all the juices disappear or dries out because of the Flour.
Take a Baking sheet spread out the Karela thins separately and bake these thins for at least half an hour or until it is well done in a Gas mark of around 5 ( but I baked at around Gas mark 3 as my oven temperature acts funny and becomes too high at around Gas Mark 5) depending upon your oven temperature Bake them evenly until nice and crisp stays for around a week in an air tight container.
Goes very well with Yogurt and rice.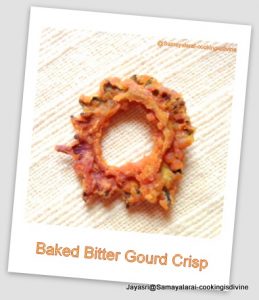 Sending this to Bake-a-thon of Champa's (versatile vegetarian), and do check out Priya, Srivalli, Veena, Preethi and Sumana who are baking with me….