Hi everybody, you must be wondering what have been going on where is event for a fortninght gone, and who is our next blogger to run with, sadly I will not be doing it until next sunday, I have got back log with my recipes not posting on time for my own event :), I am postponing this event from
EDIBLE GARDEN - NAGS KITCHEN
for next 5 more days.
I have been going through lately with some problems with my neck and arm and I have come to know from my scan that I am suffering from
Cervical Spondylosis
:), so that is why I was having all those problems, My painful Headaches and pain in my arm etc., etc., I think it is important for all of you to check it out, Getting old only causes these problems is not true, I have come to know something that after you turn 40 Women seem to get into lot of problems, So young women out their should be more careful in their day to day activities and not strain themselves, I mean to say never try to extend yourself and over do by hurting your body. It is better not to give too much strain to body by carrying heavy things, Our posture when doing things like lifting, picking up things etc., well, I should say better read about it :)), I am no doctor, but sometimes as they say Long time patient is better than a doctor, he/she knows the pains, pressure points, symptoms, causes and medicines (to take, not to take their aftermaths etc., )!!!. I am good doctor that way :)) hahaha.. Let's stop about this and come back about this
recipe
when I saw it on her blog, I had Bookmarked it as it was made with Aloo, It was really Gorgeous, and every one at home loved it.
If you like Coriander (seeds or leaves ) you will love this dish.
Nags has adopted this recipe from a book by Name
Complete Indian cooking my Mridula Baljekar
. I haven't tweaked this recipe in any way, I have used all the Ingredients she has used, Only thing I have done it I have cooked this for 6 Adults! (and some people who have an extra space in their tummies when it comes to Potatoes!!).
My Verdict:
As I had to increase the quantity I used more tomatoes and one onion to make it into a nice gravy and used more potatoes. I had made a bit spicy, but it gorgeously blended well with the tanginess of Tomatoes and Tamarind.
BABY POTATOES IN RED CORIANDER SAUCE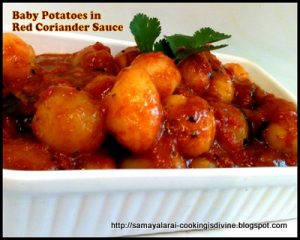 INGREDIENTS:
1 Kg of Baby Potatoes
3 tbsp of Tamarind extract
400 gms Tomatoes (I used tinned)
1/2 tsp Turmeric powder
2 sprigs of Curry leaves
Salt as per taste ( I used 1 and 1/2 tsp)
1/2 tsp Sugar
3 tbsp Oil
6 to 7 sprigs of Coriander leaves
GRIND TO PASTE:
1 tbsp Coriander seeds
1 tbsp of Cumin seeds
4 Garlic Cloves
1 Medium sized Onion
3 - 4 (Guntur and Byadagi chillies fried with little oil)/
Or Substitute with 1/2 tbsp of Red Chilli powder.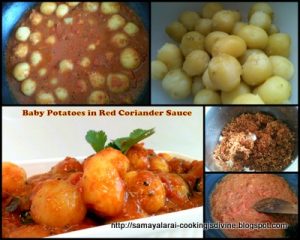 METHOD:
Cook the Baby potatoes in a pressure cooker with enough water for just 2 whistles (do not over cook it, so check out with your pressure cooker and reduce it to one or two whistles), drain the water, pour some cold water on top of it and allow it cool it in a colander so it cools quicker.
Next Grind everything under Grind to paste and keep it aside.
Peel the skin of the Baby potatoes prick them with a fork lightly on two or three sides
Take a large pan, heat oil when it is hot add the ground paste, Pureed Tomatoes, curry leaves, turmeric powder, Tamarind extract and allow it cook until oil starts separating out.
Now add required quantity of salt and sugar, mix well then add the potatoes mix well, add a 1/4 cup of water, cover it with a lid and allow it cook for few more minutes in a very low to medium flame.
Just keep an eye that they didn't get stuck to the bottom of the pan (that too like mine which has lost its Teflon coating in one place!).
Once it is well cooked and the potatoes have absorbed the masala well, Garnish with fresh coriander leaves and serve it with pulkas, chapatis or may be with rice.
Or how ever you want to eat it!, absolutely gorgeous with the coriander flavour in both the forms.
A big thanks to Nags and Mridula for this lovely recipe
Am I going to make this recipe definitely a YES.
Take an one more look at this gorgeous gravy....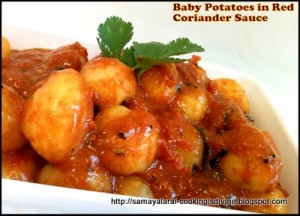 C U Soon with few more recipes from Nags kitchen and my own creations....
take care.....
Hey just a minute I just now saw there is an Event - AWED Indian Cuisine- from taste of the pearl city started by DK. I am sending this to her event hope she likes it.