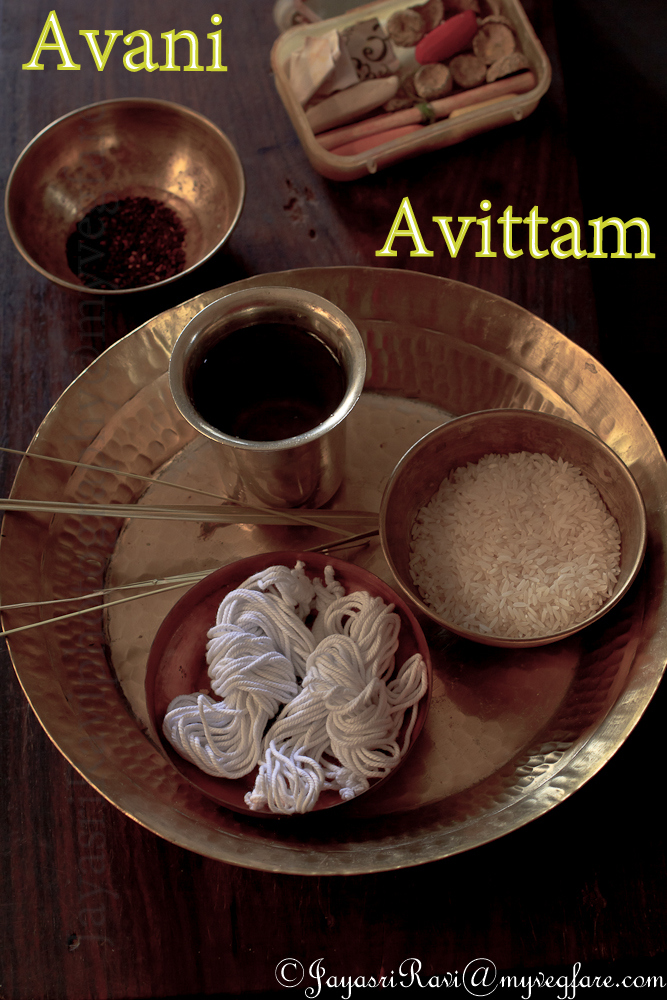 This year 2016  Avani Avittam / Upakarma falls on 18th August
---
Upākarma "Beginning" (Sanskrit: उपाकर्म), also called Āvaṇi Aviṭṭam (Tamil: ஆவணி அவிட்டம்) and Janivārada Huṇṇime(Kannada: ಜನಿವಾರದ ಹುಣ್ಣಿಮೆ),Gamha Purnima (Odia: ଗହ୍ମା ପୂର୍ଣିମା), is a Vedic ritual practiced by Hindus of the Brahmin caste. This ritual is also practiced by the Kshatriya and Vaishya community, who are dvijas and therefore have the rights to doSandhyavandanam, the daily ablution ritual.
---
Courtesy: wikipedia
In those days it is said that children were sent to study to distant places where Rishis taught Vedas and Upanishads to the Brahmin community before they were sent away.  "Upakarma" or "Beginning" or "Aarambham" is the auspicious day to start their education.
Brahmins belonging to Yajur Veda observe Upakarma in the month of Sravana (Aug-Sep) on the day of Paurnami.
There is a story saying the Lord Hayagriva ( Lord of Knowledge/Learning) restored the Vedas to Brahma from the demons Madhu and Kaitabha who stole the Vedas from Brahma, it is said that Vishnu took the form of Hayagriva (Haya-Horse and Griva – Neck/Face) to kill the demons and recover the precious scripts.
On this day the men and the children (who had Upakarma already) have to change the threads accordingly.
Bramhacharis (unmarried Brahmin Boys) should wear 2 Vastras and have to wear 3 lines/strands of thread where as the married men Gruhasta's have to wear pancha kacham and wear 6 line/strands of thread. Both should also use Upavastram / Uttareeyam tied to their wait during the ritual.
Important things used during the ritual of Yagnopaveetam (Poonal / Sacred thread) are Panchapathiram, Uddharani (for aachamanam), Dharbam, Black Til seeds (used for tharpanam), Rice (Akshadhai), Aasanam (to sit), Jalapatram.
This ceremony symbolizes retrospective and pertinence to a new beginning.
Typical Menu for Aavani Avittam is
Breakfast : Idli / Aapam
Lunch: Saadham (Rice) Paruppu (Dal tadka), Nei(ghee), Mour Kozhambu (yogurt based curry) or Sambhar, vada (urad dal vada), Paruppu usali, Kariamudhu (Poriyal /dry curry), Saathamudhu (Rasam), Thirukannamudhu (payasam), Vadaam / Aaplam ( fried papads), Thayir (yogurt) and pickle.
Dinner: Light tiffin but women and children have to eat Saadham (Rice) little at least and they do not do fasting as the men who would have given Tharpanam on this day.
GAYATHRI PRATHIPATH / JAPAM : August 19th
Gayathri Japam is done as to their capacity of reciting the mantra from 21 to 108 to 1000.
I have collected these from few sources from Google and here are some more links if you interested in reading more about this festival.
Scripts, Sankalpams and Do it yourself scripts and MP3's are here if you are abroad which is very useful.
https://www.trsiyengar.com/id62.shtml
https://www.trsiyengar.com/id63.shtml ( for Gayatri Japam)
http://www.ramanuja.org/sv/rituals/upakarma/significance.html
http://www.prapatti.com/slokas/index.html (for different regional languages and Gayatri Japam)
http://www.prapatti.com/slokas/kannada/upaakarma.pdf (Yajur veda Upaakarma in Kannada)
http://www.prapatti.com/slokas/tam2/upaakarma.pdf (Yajur Veda Upaakarma in Tamil)
http://vedabhavan.org/yajur-upakarma-avani-avittam-2016-text-mp3-downloads/
http://www.panchangam.com/avani.html
https://www.scribd.com/doc/51710064/Yajur-Veda-Avani-Avittam-or-Upakarma-and-Gayathri-Japam
http://www.hindu-blog.com/2009/07/narli-purnima-in-maharashtra-narali.html (In Maharashtra people celebrate this purnima day as Narli Purnima check this link to know more about it.
Have a wonderful day…
RAKSHA BHANDAN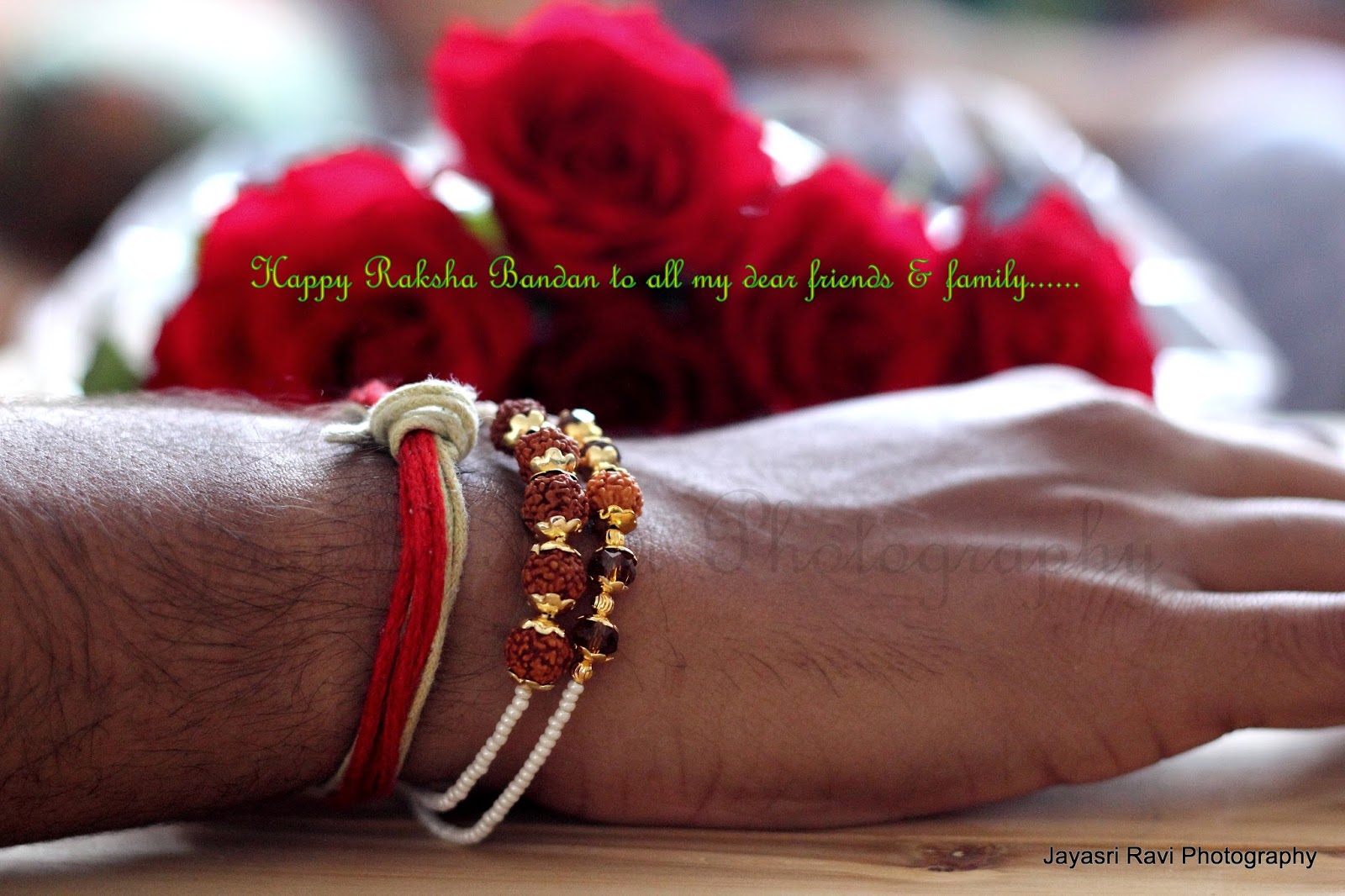 In North India people celebrate Raksha Bandhan on this same day as the name depicts Raksha ( to Protect) Bhandan ( to tie). Sisters tie Rakhis to their brothers to protect them from evil influences and it is a big festival for North Indians. Married woman go or invite their brothers and tie Rakhi for the well-being of their brothers.
When I was searching in the net I came across this, I thought this was very interesting and wanted to share with you this as I had not heard of a mantra for this particular festival.
A Mantra is recited when the Rakhi or the silken thread is tied. The silken thread is charged with the power of the Mantra,The power of this Mantra protects the wearer from evil influences. which is as follows:
Yena baddho balee raajaa daanavendro mahaabalah;
Tena twaam anubadhnaami rakshey maa chala maa chala.
"I am tying on your hand this Raksha, with which the most powerful and generous King Bali himself was bound; O Raksha, don't go away; don't go away."
Lots of sweets are made during this festival and shared with everybody.