One day I was just talking to my sis and when I asked her what did she have breakfast she was telling me that she had Kande pohe, of course your guess is right ? She lives in North India, Her cooking is mostly influenced with North Indian cooking, Lived there for almost 18 to 20 years now!!. I have written down loads of recipes from her book which she has collected from her friends from long time. Well, this recipe has nothing to do with North Indian cooking, it just came to me talking to her, when she said she had made Avalakki (pohe) Chitranna, that's what we call in Karnataka, what you call in North of India as Kande Pohe, and I was planning to make Ven Pongal (Khara pongal / Moong dal Khichdi ), It just hit to me why not make Khara Pongal with Poha, she was laughing and said I should try it out and tell her, so from then onwards I have been making this Pongal, which is perfect for Upvaas / Fasting during the holy days.
So here how I made it.., It's not a big hit in my family, just like ven pongal my kids don't like it much either, My Husband and me we like pongal, but my Husband is not a big fan of Avalakki / Poha , It's only after our marriage I used to make all sorts of recipes with pongal, funnily his mother never made, so, he is not really into it. But, In my Mom's house we all love poha and we are used to it..
So, It is totally you like this or not like it, is this recipe..., If you like it and try it do tell me...
AVALAKKI / POHE PONGAL ( KHICHDI )


INGREDIENTS:
1 Cup of Broken Avalakki / Pohe
1/2 Cup Moong Dal / Hesaru Bele / Pesaru pappu
1 tsp Mustard seeds
2 to 3 green chilies
1 sprig of Curry Leaves
2 to 3 tbsp Coriander leaves
1/2 tbsp of salt
3 tbsp of Oil
1 tbsp Channa dal
1 tbsp Urad dal
Water
SEASONINGS:
3 to 4 tbsp Ghee
1 tsp Pepper corn
1 tsp Jeera / Cumin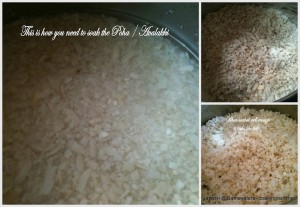 Next step....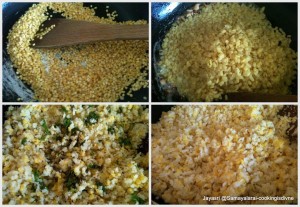 METHOD:
First of all soak Moong dal in water at least for 1 hour.
In a mixie grind the Avalakki / Poha corasely, don't grind too much it will be become a powder which is no use to us then, wash avalakki 3 to 4 times and clean it, careful, fill water move your hand around like rinsing, leave it to stand for a 2 to 3 seconds it settles immediately drain the water using your hand as a sieve to stop the pohe running off 🙂 ( hope you understand what I am trying to tell you ) do this as indicated so you will get rid of the dirt.
This dirt usually comes out from beating the rice grains ( pohe is nothing but beaten rice with the husk and it is cleaned of nearly from the husk ).
Then fill in the water just exactly an half an inch above the pohe and leave it for some time.
Meanwhile drain the water from the soaked Moong dal, with a 1/4 cup of water in a very low flame cook it using a pressure cooker or directly in a pan with enough water until they become soft but not loose too much of their shape. ( it cooks very quickly, I have a very small cooker I use it and cook it just exactly around 10 minutes )
After an hour or so, your poha would have completely soaked, squeeze if any extra water in them using your fist take a morsel in your fist squeeze and put it in a plate, do like this for all of it. So, all the Avalakki is fluffy and nice.
In a wok heat oil add mustard seeds, when it is spluttering add green chillies and the dals saute them until they change colour add curry leaves then add the cooked Moong Dal mix it well, then add poha which you have kept ready.
Mix this poha with the Moong Dal and also salt well together. close a lid and leave it in a low flame.
In a small pan / wok heat Ghee, crush pepper and cumin seeds coarsely add this to the Ghee leave it for a minute and switch it of quickly.
Add this seasoning to the Khichdi mix well and serve it hot with Coconut chutney..
If desired you can squeeze bit of lemon to make it more flaourful.
I am sending this to Magic Mingle #7 of Kalyani's this month she has announced two Magic Ingredients Moong Dal and Pepper. These two are my favourite combination tune for more recipes from these two combo...