I made this Aubergine/Badanekaayi/Brinjal gravy with pesarattu and it was quite a good combo, I had this Big Aubergine with me, actually I bought it to make chutney as my FIL likes it. But I did not get a chance to make it, before it gets spoilt I wanted to use it and then I thought of making this gujju or gravy with green gram dal dosa or pesarattu.  I never thought it might be a good combo but it did go well!, here is how I did it…
AUBERGINE/BRINJAL TAMARIND GOTHSU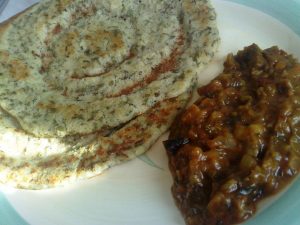 1 medium sized Aubergine
1 onion
2 small tomatoes
1 tsp mustard seeds
1 tbsp chenna dal
1 tbsp urad dal
1 gooseberry sized Tamarind
salt as requried
1 sprig of curry leaves
1 tsp coriander powder
1/2 tsp cumin powder
1 & 1/2 tbsp chilli powder
Take Big single Aubergine and apply oil completely on it and roast it directly on the stove rotating it occasionally so that it gets cooked on all the sides nicely, you can smell the burnt smell of the aubergine, ( I prick knife in three or four places just to make sure brinjal is completely cooked).
Take a wok heat oil, then add mustard seeds once they splutter add chenna dal and urad dal and fry for few minutes till the colour changes.
Then add finely chopped onions and fry for few minutes then add the chopped tomatoes and fry for few minutes
Then squeeze juice from the tamarind and pour it into the wok and allow it boil for few minutes
Meanwhile remove the husk from the aubergines which are roasted, take off all the husk then mash the aubergine and add it into the tamarind juice then add coriander, cumin & chilli powder and curry leaves and cook for few more minutes.
until all the raw smells sizes and the gravy gets little thickened.
serve it with chapatis, dosas, pooris or idlis or even with rice.
PS: if the gravy doesn't get thickened add a tbsp of rice flour dissolved in little water, another variation add a small bit of jaggery for a little sweet and sour taste.