dir="ltr" style="text-align: left;">
Hi all, Sitting late night and trying post one recipe everyday is becoming too much to me, I do not know how long I will do this, but kind of enjoying it, of course I am not Julie or Julia Child !!.
I sit on the computer watching some CSI, poirot, Medical detectives etc., I think they are the ones which make me sit and post my recipes!!!
I know lot my friends keep writing about everyday Breakfast problems, The other day valli was saying in face book that she has posted around 600 recipes but everyday she wonders what to cook!!, When I was in India I used to have Breakfast problems!!, I used to wonder every night & morning what I do for breakfast, I used to make different types of rice the whole week or different types of Dosa for the whole week!! and I remember my MIL telling me '' Rice Bath vaaram (week), Dosa vaaram (week) apruma yenna vaaram!!'' you must have heard this kind of vaaram in SUN TV!!, Rajani Vaaram, Kamal Vaaram , adapting that she used to rag me!! Bless her!! we all used to laugh so much!!
But, coming here every evening I wonder what shall I do for the kids when they come home hungry!?, As mornings are quite nice, bowl of milk and Kellogs, Bread Toast, and lunch Bread again with cheese and veggies or jam or nutella or anything they find interesting, like they took my french rolls which I baked 3 days back!!,
So yesterday evening I made this I thought it was quite quick to muster up, and they loved it... they asked for a second helping but I had cut it into 4 portions exactly three kids and to one to my big kid!!, who loves potatoes next to his mother!! here goes my recipe..
Oh! the best part I forgot to tell you all is, today when I sat to type it down I did not know what to call it, I was thinking what shall I call it and then when I was googling this name caught my attention and thought this might be somewhere near it so I called it Au gratin tweeked!! here goes my recipe....
AU GRATIN POTATOES AND SWEDE SPICY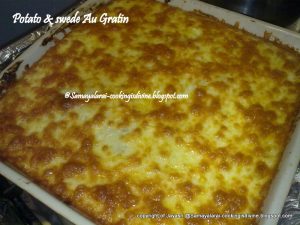 INGREDIENTS:
5-6 medium sized potatoes

150 g swede (approximately)

1 big onion

3 cloves of garlic

1 Red pepper

1 Tomato

1 Egg (optional)

1 and 1/2 tsp pepper powder

Salt as required

1 tbsp of mixed Italian herbs

1 Carbonara sweet and sour Sauce packet (optional)

25 gms of salted butter

300 gms cheese Mild cheddar cheese (v)
METHOD:
Chop the onions finely, chop the peppers horizontally about 2'' in length, chop garlic and keep them aside

Meanwhile pressure cook the potatoes and swede and allow it to cool.

Grate the swede, Mash the potatoes with butter and keep it aside adjust salt if necessary.

Take a wok pour 2 tbsp of oil, once when it is hot add the chopped onions and garlic and saute for a while until it changes colour, then add chopped Tomato and saute until the water evaporates, at this time the wok becomes kind of sticky because of the Tomato, Then add the peppers and saute in a little bit high flame continuously until it is quite done.

Then lower the flame, add salt and pepper and mix well and then add the grated swede on top of it like spreading it uniformly then sprinkle the Italian herbs on it, then break open the Egg, whisk it well and spread it on top of this, once it is do, cover it with a lid and leave it for few minutes, by that time the eggs get cooked, turn off the stove.

Meanwhile in an other stove, open the carbanora packet mix it with water and cook over a low flame (as instructed by the packet) until the sauce becomes thick, and keep it aside

Now Carefully try to pick them up in portions and arrage in a gratin dish or what ever you have like mine then spread the mashed butter & potato on top of it,( if you are not able to pick them in the way the layers were arranged it is alright just pick them up and place them on a dish).

On the top of this carefully spread the sauce which you have already prepared evenly through out the potato mash.

Grate the cheese which ever you desire completely on the dish and bake in the over at Gas Mark 6, for 20 -25 minutes or until they turn golden in colour.

serve it with Tomato ketchup or however they choose to eat!!
Take a peek at my Au Gratin Potatoes and Swede from my daughter's plate, and Guess today morning again my hubby dear was asking me what was the name for it, said it was too Good!!, But I am a Good I am, did not touch it, as it had egg and too much of cheese and butter, not good for my age, cholesterol levels either!!
If you like this try out and as I always say masala's are your choice, or omitting them is also of your choice.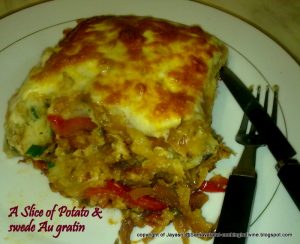 Thanks all!! for all the lovely comments I get everyday in my mail, I am trying to write to you all one by one.. Hope you will all like it and enjoy trying it out!!