Hi, Its almost 3 to 4 weeks since I did my blogging without any interruptions, I had so many things to do as I had to travel to India, Lot of things to sort out!!, shopping , packing and weighing Oh!!, I was quite tired when I landed, even then its so happy to be in Bangalore, Here I am enjoying the warm weather, seeing my family and friends and also the vegetables and fruits, It has been such a fun seeing all the children in the family, They are also so excited as I am. My Parents and sisters are so happy to see me, as I am seeing them.
well, I have a lot of stock in my edit lists to posts which I had no time to do!!, So, I thought let me start to post one by one and update my blogging and I have to still go through lot of posts by our wonderful bloggers and find out what all they have been doing in their kitchen cooking!!.
I seem to have no time at all to sit and post my recipes because I seem to go short of time talking to my family and friends!!!!
Well, as Raji said nobody is going to force you to post anything take time off and post everything later!! Yes, I know it is so right but I had got a good deal of friends here when I started blogging I made some friends with whom I was interacting and it was really such a fun and I was enjoying it so much Now I miss it so much it was like a community of my own. I feel Blogging has given me so much satisfaction and a circle of my own friends who all have a lot of common liking like me.
This is again a Kind of Idli , calls this as Kadabu, in karnataka, I call this as Akki Idli / Ukkarisida Akki Tari Idli . This is very quick to make and taste delicious too!!
Ingredients:
1 cup finely Broken Rice (Akki Tari)
2 cups of water
1 tsp Cumin seeds
1 tbsp channa dal
1 tbsp Grated coconut or you can use chopped coconut
1'' Ginger
1 sprig of curry leaves
salt to taste
METHOD:.
Take a thick bottomed vessel pour water into it and allow it to boil, add required quantity of salt and a tsp oil.
Once water starts boiling put the stove back to low flame and immerse a ladle into it and add a tbsp of channa dal, a tsp of Jeera and use chopped or grated coconuts.
Once it starts boiling add cup of broken rice and leave it for few minutes, cover a lid over it so it cooks well.
This is just the same method like i had told in my earlier post about Ubbu Rotti,

you have to follow the same way. Their I had used Arasi Mav (Akki Hittu/rice flour) Here I am using Akki Tari (Broken rice)

The Only thing is the Vessel is quite important, You need a thick bottomed vessel, Using a Vangala Paane (Brass vessel) are quite good for this kind of cooking.
Water starts coming up then mix them all together like you call it in kannada as Tolosodu with the help of the Ladle and allow it to cook for few more minutes.
Then Remove it from the fire and mix thoroughly with the help of water make it into round balls and press it into the shape of an Idli or you can make cylindrical rolls and use either the Idli stand or a broad vessel to cook them in the pressure cooker for 12 to 15 minutes without the weight on it.
Once done, remove it and serve it warm with coconut chutney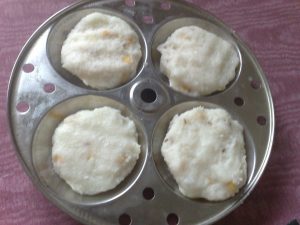 This is how it looks like when it is done and is quite delicious to eat, my children love and I do not need to wait for the fermentation process to go on, It might not come well for the first time but once you give it a try you would come to know how to do it.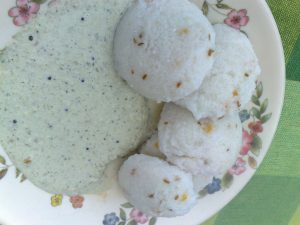 Variation: You can powder Tuvar dal and pepper with it or you can use grated carrot or Dill leaves or Sabsige soppu finely chopped and mix with it and continue with the same process.
This is also called as Upma Kozhukottai, in Tamil Nadu style it is more like Tavalai Adai

TIP
Adding coconut to this makes it more soft, and also makes it delicious, your kids will love it, as it won't be very soft as Idlis are but biting on to the dals and coconut and the jeera makes it more interesting to eat

HOW TO MAKE YOUR OWN RICE RAWA
I make my own Broken Rice Rawa or Akki Tari, I take 1 or 1 and 1/2 cup of ordinary Rice in a mixie and run the mixie in 1 and 2 speed in a fast mode like turning in quick speeds then the rice breaks into a coarse powder (do not make it into a fine powder), then measure it for a cup and start the process to make these idlis.
I also these kind of rawa to make Arisi Uppuma / Akki Tari uppittu