Hi everybody,
Hope the sun is shining in other parts of the world !!, My sun still hasn't completely into us still !!, still the cold air lingers around, just to keep telling that I am still their, Almost a month back, I planted some seeds and all of them have come up, and I want to put them in the garden, well I can't plant them in my garden as the soil is clay !!, So I have to keep them in pots, hoping them will survive there!!, The sun seems to play tricks all the time still, Once the summer is in full fledge I can bring all my pots out, they are all still in my conservatory!!. Coming back to the recipe, This gojju I prepared with my Museli-branflakes Dosa, I thought the combination went quite well, I think it might go well as a side dish than eating with rice as other gojju's I make.
APPLE-CUCUMBER GOJJU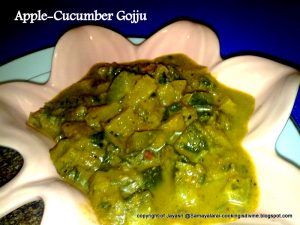 1 Cucumber
3 Apples (I used Granny smith)
4 sprigs of Coriander leaves
1 sprig of curry leaves
salt as required
2 tbsp oil for tempering
a pinch of turmeric
a pinch of Asafoetida/hing
Gooseberry sized Tamarind
2 tsp Channa Dal
2 tsp Urad dal
3 tsp Black sesame seeds
2 tsp Methi Seeds
3 tsp Dry Copra/dessicated coconut
4-2 Red chillies (Badgi-Guntur)
1 tsp Mustard seeds
1 tsp channa dal
1 tsp urad dal
1 Red chilli broken
METHOD
Wash and cut the cucumber and apples with their skin (or without their skin if you wish), Take a wok, heat 2 tbsp of oil add mustard seeds once it starts spluttering, add the ingredients in the seasoning section and saute them a minute when they start changing colour add the vegetables with a cup of water and curry leaves. If the water evaporates before the vegetables are cooked, keep adding water.
Meanwhile soak tamarind in water and extract the juice out of it.
Then take an other wok and a tsp of oil and roast all the Ingredients in the Grinding and fry them one by one starting from Methi seeds, Once the Methi seeds change colour and the dhals and chillies, do not fry the coconut, fry sesame seeds saperately until it starts making a spluttering sound, then keep the roasted ingredients aside to cool before grinding them a smooth paste.
Once the vegetables are nearly done add the tamarind extract and allow it to boil for few minutes so the raw smell disappears, Add another 2 cups of water.
Then add the Ground paste and required quantity of salt mix well and allow it to boil and get thickened for further 5 to 10 minutes in a low flame.
Add water as needed so the Gojju should be in the consistency of vegetable Gravies you prepare, Once the paste is added the Gojju might become too thick add little more water so it has the consistency of a Gravy
Add washed and finely chopped coriander leaves to garnish and serve it with hot pooris, chappatis, dosas or Idlis.