Potato or Aloo is a universal favourite I think, In my house, any curry I make the first thing they ask is, is it aloo curry?, Sometimes I get fed up making aloo most of the days, my parents used to say aloo gives you joints pain so, it is better to eat less of it, But, I am so surprised to see here, people in Britain use potatoes in their everyday diet, Potato has starch which helps in the growth of kids, Whatever it is potatoes are the most tastiest, unresistable don't you think ?
My kids  & hubby would say yes!!.
Here is one of the Potato recipes absolutely delicious to gobble….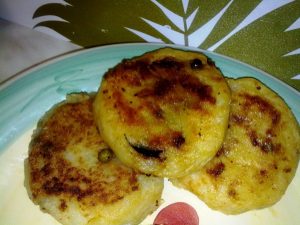 Ingredients:
3 to 4 Potatoes (Actually you can use as many as you want to eat!!)
2 to 3 tbsps of corn flour or Bengal gram flour (according to requirement)
a pinch of asafoetida
1 tsp of salt
1 tsp of Red chilli powder
1 cup of peas
2 Green chillies (optional)
1/4 tsp of turmeric powder
1 tsp chilli powder
1 tsp coriander powder
1/2 tsp cumin powder
1 tsp Garam Masala powder
1 medium sized onion
1 Tomato
2 garlic pods
a few sprigs of coriander leaves
salt as required
1 to 2 tbsp of oil
Cook the potatoes till soft using a pressure cooker or directly. I used Maris piper potatoes, potatoes which are floury are good to this kind as it is very easy to mash
Once they are cooked peel of the skin, mix required quantity of salt according to the amount of potatoes used, add a bit of asafoetida & chilli powder mix well, If they are too sticky add flour accordingly to it, mix well & keep aside
Meanwhile Heat oil in a wok, add finely chopped ginger, garlic & onions and fry them till they change their colour or they turn transparent, then add Tomato and fry them too.
Add peas ( I used frozen peas), so I did not sprinkle water to cook the peas, If you are using fresh peas keep sprinkling little water now & then and cook the peas
Once they are well cooked add required quantity of salt & other masala ingredients one by one and fry them all quite well, so that the whole subji is well quoted and absorbs all the masala in it. just like this  
Let it be a dry curry, that is not too dry either.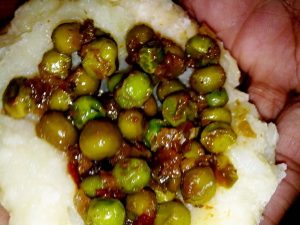 Next make a bowl like this from the mashed potatoes and keep the filling in it and close it neatly so, it doesn't come out in any way, just you do like in the kolukottais, just like this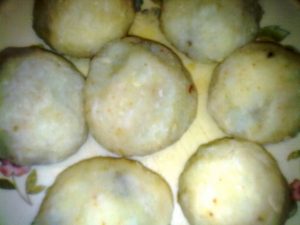 Make balls like this, and flatten them into burger like shapes, and shallow fry them in oil so they are nicely roasted, on both the sides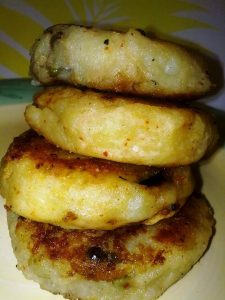 Enjoy your Aloo Tikkis with any side dish or eat it with sauce or just like that!!!