>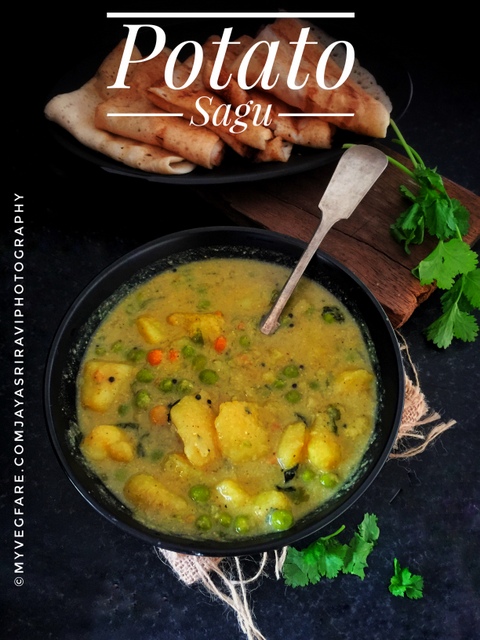 Potato Saagu or Aloo Saagu is one of the favourite side dishes of south Indian Breakfast, mildly spiced and is accompanied with coconut chutney!
This is served in Hotels and Darshini's in Karnataka with Rava Idli and Set Dosa!! If you visit south India don't forget to try this out.
Potatoes are the most delicious, delectable, adorable, mouthwatering, etc., that's what my Kids and hubby say!!, Yes, Ok, I know, So everybody in this world say!!, coming to the UK I saw that people love Potatoes so much it's just like us eating Rice/chapatis!!, I also discovered so many different potatoes with different names & Bishop, King Edward, Maris Piper, New potatoes, Red Rooster, Russet, etc., I never knew there are 15 to 20+ varieties of potatoes.., Well, I have experienced that some potatoes, when cooked, become so mashed up, some are kind of stay intact and lovely for roasting.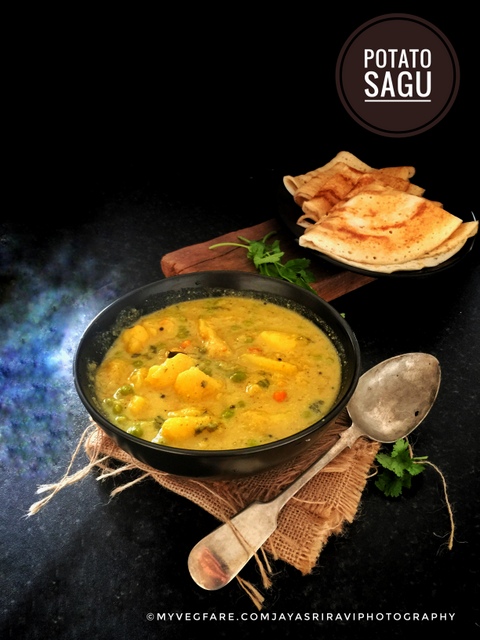 My father always told us not to use green potatoes, If we asked him about it, he used to say it is poisonous, well, back then we never had a computer and did not know much about Googling to find out what it was, don't we all follow lot of things being told by our elders blankly not questioning them!!, when we start thinking about it, I feel now a days I get more answers to their logic and wonder how did they know about it !!, In India, long back I was seeing a TV documentary about vegetables and how it should be grown, In this lovely programme I came to know something very important and I would like to share this with you all, maybe you must be knowing about it too.., I know I have posted so many potato recipes and you would be wondering why I have not told you about this all these days, well, as usual I keep forgetting lot of things.., ok let me come to the point, the person in the programme told the viewers not to consume
potatoes which are turning green
, as they have a solanine in them which is not good for health, click on the above link and check more details about this subject.
Green in potatoes indicates the presence of a rather harmful toxin, Glycoalkaloid poisoning called Solanine, When you see patches of green in your potatoes, I prefer not to use them or you can cut the green parts entirely and discard them.  So, what is this green colour in potatoes, they are nothing but actually chlorophyll which is harmless but, it is said that the chlorophyll indicates that the potato has been exposed to sunlight & the toxin which is normally present in the potato (solanine) becomes concentrated at harmful levels.  Always store potatoes in cool and dark place.
If your potato is damaged or bruised discard it and potatoes with sprouts should also not be consumed as they also have concentrated solanine.
Check out these websites for more information on potatoes:
and the first link is from Wikipedia from our lovely Google, as my daughter says Google and Wikipedia are her best friends for her school work!!, Google and you get all the answers!!.
Sorry friends for such a big lecture, I thought it might be useful for at least some of my readers.
Let me get back to the recipe...
ALOO SAAGU OR POTATO SAAG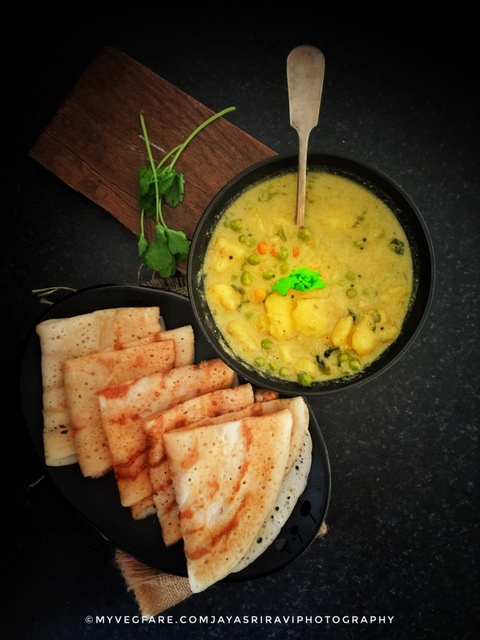 Ingredients:
1/2 Kg New potatoes

1/2 cup fresh Green Peas (optional)

2 Onions medium sized

Coriander leaves to garnish

salt as required

oil for tempering and roasting the masala

1/4 Cup milk (optional)
FOR THE MASALA
2 tbsp chopped coriander leaves

2 cloves of Garlic

1 tsp of Coriander seeds

1 tbsp Dharia dal/Hurigadale/chutney dal

1 tsp of poppy seeds

4 to 5 green chillies

3 tbsp of fresh coconut

1'' cinnamon

2 cloves

1 Marati moggu

1" Ginger

1/8 th tsp Saunf (Aniseeds)
1 tsp mustard seeds

1 tbsp channa dal

1 tbsp urad dal

few curry leaves

1/4tsp turmeric powder

oil for tempering and roasting
Pressure cook the potatoes once cooled peel off the skin and cut them into four's are mash them a little bit,

Meanwhile, In a wok, with a tsp of oil, fry cinnamon, cloves, Marati Moggu, Saunf and Poppy seeds fry well then add chutney Dal, Green Chillies, Coriander leaves, Garlic cloves, and fresh coconut fry them too, just for 1 or 2 minutes take out and allow them to cool.

Once they are cool grind them with all the remaining spices from the 'for the masala' ingredients and grind them into a fine paste, add water to make it into a dosa consistency, so that they do not form lumps when you add them into the potatoes.

In the same wok, add 2 tbsp of oil, season with mustard seeds, followed by the dals once they change the colour, add the other two finely chopped onions and roast them until they become transparent. If you are adding Green peas add it at this stage and cook it.

Then add the lightly mashed potatoes and the masala gravy and with enough water so the potatoes are immersed in the liquid, add the required quantity of salt, allow it to boil for some time, keeping an eye on it, as it starts thickening,

Once it starts turning into a gravy, add the 1/2 cup milk and coriander chopped finely to garnish and allow it simmer for further 5 more minutes, just be careful so that the milk doesn't get curdled up.

Mix everything well and serve it hot with anything of your choice, but it is usually served with set dosas
Note:
Do please use the chillies as per your choice, as chillies vary in their, spiciness.