Don't laugh, and think if I am obssessed with Rottis, I love them!!, but these things which I make up is when I cook something more or If I am left over with some ingredients!!, Actually I had planned today to make something with Aloo and methi for my chappatis, everything flopped when I came home hubby dear had made his favourite Aloo Roast and I made some Goddu Rasam as my MIL and Mom calls it, and he had made Paruppu aracha karmadhu (dry curry) with Bittergourd!, so we finished them both for our dinner!!, Aloo dominates too much in my kitchen because of the kids (3 +1)!!, I made this Aloo Rotti which really came out well and of course the aloo mad family loved it. Yes, your guess is right!!, it is of course a very simple dish, here it goes.
Yet again I will not be able to give you exact measurments, you can try this as it is very simple and easy to do.
ALOO ROTTI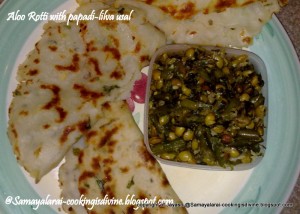 2 to 3 Medium sized Potatoes cooked and mashed without skins
2 to 3 Green chillies
4 to 5 sprigs of fresh coriander leaves finely chopped
1 fresh curry leaves finely chopped
1 to 2 Cups of Rice flour
water as required
salt as required
1 tbsp of cumin seeds
OPTIONALS:
1 to 2 tbsp of Chenna Dal
finely chopped onions
grated carrots
finely chopped cabbage or any veggies suitable for this
Dill leaves
parsley
Val beans/Averekkai/fresh field beans etc.,
Add chilli powder instead of fresh green chillies
METHOD
Cook the potatoes and mash them nicely without any lumps add salt and other ingredients mentioned above mix well.
Now add Rice flour and make into a nice soft ball so that it doesn't stick to your hand, use water little by little by sprinkling, making it into nice pliable dough coming clean out from the bowl, just like the consistency of how you make your Akki Rotti
Now make small Lemon sized balls and flatten them on the wok, I love cooked them in Vaanai's/wok's/kadais/Baanale or whatever you want to call them hope I have tried my best to tell you what it is, the Iron or the ones made Aeroplane metal (!!), that's what mum called the wok she had which was made with!!, is actually the best one gives a nice roast underneath when it is cooking and comes out clean just like the non-stick ones.
You can also do it by taking these balls one at a time on a sheet which will not stick to the Tawa, like what you use for making polis/obattu, If I have to many people in the house to serve this I use 2 to 3 wok's at a time or I also have a Tawa on one of the stoves and put them on it and cook them like chappatis, for this you can use Banana leaves or like me I use the cover of horlicks or Bournvita Sachets !! even when I make polis I use them.
Press them around with your back of the palm nicely it should quite thin that would absolutely gorgeous to devour then!!
Pour oil around and make a hole in the middle cover and cook it in a medium or low flame, I usually cook them in a low flame as you saw
here
that I use the small pans to cook them, so that it cooks well and gets nicely roasted, it just take 5 to 7 minutes to well done.
Hope you also try this out and enjoy, as potatoes have lot of starch, carbohydrates in them it is good for the growing kids.