When I was checking on Events and roundups, I saw this APS- Rice event in
Anita's Kitchen,
So, here I am with a Rice Bath, Actually every day my kids ask what are you preparing for dinner, I will say if you keep the house clean I will prepare something nice, if not I will make Rasam or sambhar! They make all kind of faces, grunts, mumblings etc!, I won't budge, do you know what I am branded as ''a very bad mother'', they call me a  cleaning freak, something is wrong with mummy.., she goes all crazy..., etc.  Well, I think I actually  am, right now I am happily sitting & writing this, if I turn around I might start screaming everything is everywhere, I need to sort out everything and to their places. I get so tired and never am able to do anything as per planned!!, mm.., let me stop, I think I can go on and on about this subject, coming back to the recipe, I think it's not only the kids who love to eat different things than the usual Rasam and sambhar but I too love eating variety of dishes, I think that is what makes me cook different kind of food everyday.., love to change and try out new dishes and Rice is something such a versatile ingredient, don't you think so it blends with so many different vegetables, fruits and spices.  I love it in different varities, Here is one such I dish which turned out very well.
ALOO (POTATO) SPICY MASALA RICE BATH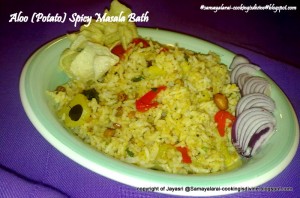 INGREDIENTS:
2 Cups of Rice
6 TO 7 Medium sized potatoes
1 Red pepper
8 to 10 sprigs of coriander leaves
2 sprigs of curry leaves
MASALA TO GRIND
1/2 Cup Freshly Grated Coconut
1/4 tsp Black Pepper
5-6 Green Chillies
2 tbsp of Coriander seeds
1 tsp Fenugreek seeds
2 tbsp White Til seeds/sesame seeds
3 Flakes of Tamarind
pinch of Asafoetida
1/2 tsp turmeric powder
1 tbsp Jeera/Cumin seeds
1 tsp Mustard seeds
SEASONINGS
1 tbsp of Channa dal
1 tbsp of Urad dal
1 tsp mustard seeds
fistful of Black Channa/Kadale Kaalu
fistful of Peanuts
4 to 5 tbsp of oil
METHOD:
First of all peel the skin of potatoes and cut them into thick cubes (select potatoes which don't get mashed up while cooking but stay intact I used King Edward potatoes).
Cut Red peppers as thick strips, so they don't get mushed up!!
Soak Black Channa in water for some time until needed
Cook Rice ( I have used Sona Masoori) with a tsp of oil so the grains are distinguishable!, Once the cooker cools down spread the Rice in a plate and saperate the grains.
Meanwhile Take a large wok, fry sesame seeds and Fenugreek seeds without oil, until their colour change, take them out and allow it to cool
In a mixie Grind coconut, green chillies, cumin, coriander, tamarind flakes, and roasted fenugreek and sesame seeds without using water, and keep aside.
In a large wok, heat 4 to 5 tbsp of oil, add mustard seeds, once it starts to splutter, add chenna dal and urad dal once they change colour, add the cut cubed potatoes and capsicum and curry leaves, roast them until they are well cooked and done in a low flame.
Once they are cooked add salt and the ground mixture and fry them for further few more minutes, Once a nice aroma comes out of it, put it off.
Meanwhile In an other wok take another 2 tbsp of oil and allow it to get warmed up, by that time take the Black channa out of the water and pat them dry using a towel of a kitchen towel and keep aside.
Once the oil is hot add Black Channa and peanuts and fry them until they start spluttering put of the stove add finely chopped coriander leaves, just saute once and add this to the well prepared Potato mixture.
Mix them all well, add required amount of salt, but remember that you have added some salt while cooking the potatoes, so check and  salt accordingly to it,
Add Rice and mix them well with the spiced up Aloo mixture completely and it is now ready to serve with, papads, or raithas, or whatever you like to eat it with like me eating with Red Onions!!.
I am sending this of to Anita's kitchen for her APS---Rice.