Hi, The gloomy weather is making me feel so depressed, It's so horrible weather out their it's pouring down from past three days, from past two days the wind is so horrible it brought down one part of my fence to half and yesterday it was much more terrible it brought down the whole one part of the fence!!, it was like I had lost my privacy!!, It's been raining cats and dogs from past week, when kids got up I had to ask my son to help me out. All of us tried our best possible way to put the fence back again with few stones and some strong wired thread and somehow got back our privacy!!. At least I am happy my neighbour will not be able to see inside of my house when they come to their backyard!! Hope it holds for sometime, until it is properly repaired. By the time when we came inside our hands were biting because of the cold, my hands started paining and Jr.R was complaining too, both of us kept our hands in hot water to regain blood circulation in our hands!!.
Before they got up I was planning to serve roti and spinach dal and thought of cooking something else for lunch but it turned out as a brunch, as they got up so late! Their good morning was at around 12 O'clock!!, Because it's Saturday and weekend as Mr.R says don't disturb and don't wake me up early in the morning.
ALOO-PANEER ROTI WITH STIR FRIED SPINACH AND DAL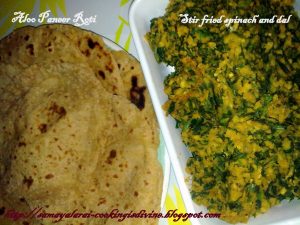 Recipe for

ALOO-PANEER ROTI (POTATO-COTTAGE CHEESE INDIAN FLAT BREAD)
2 Big Aloos (potatoes)

200 gm paneer block (shop bought)

2 tbsp Thyme seeds (Omam)

1/4 tsp cumin powder

1/4 tsp coriander powder

1/4 tsp chilli powder

3 to 3 1/2 cups of whole wheat flour (pilsbury atta)

water as required

salt as required
METHOD:
Boil the potatoes and peel of the skin then grate paneer.

Take a big bowl add both of them and mash them well then add the rest of the masala powders and mix well.

Then add whole wheat atta and start kneading into a dough then keep on adding atta until the sticky feeling goes off.

With the help of water making it into a pliable dough and knead it well and make it into a chapati dough.

Take lime sized balls and flatten them or roll them with a rolling pin just like a chapati/roti.

Heat a tawa or girddle and gently place a roti on to it, fry, when one side starts to get red speckles on it turn round do the same thing.

Then if you want you can pour a tsp of oil or ghee and fry on both of the sides or just fry them like pulkas, they are so soft and so good you will love it.

Serve it with what ever side dish you like!!
One day I called my friend Lakshmi, she usually calls me to now and then to ask me about recipes, how should I do it ?, that day I was returning her call, it was nothing about recipes just a general how are you ? call, casully I asked her, what had she done for dinner ? she said I made moong dal subzi, I was quite surprised I said how did she make it, as moong dal tends to become soft that too if you cook it in a cooker she said, that when she came to my house the first time I had made it !!, well, I just couldn't remember what I made, even today I don't remember what I did, it is growing on me with my age!!, well, I told her what ever I made I don't remember but you have given me a good idea and I will try it out, a very different recipe from my usual moong dal dry curries where in I add moong dal to most of my veggies. So, here is how it turned out !! ...
STIR FRIED SPINACH AND DAL WITH COCONUT
Ingredients:
3/4 th cup of Moong dal ( Green gram dal)

1 & 1/2 tbsp of Chilli powder

6 to 7 sprigs of fresh coriander leaves finely chopped

1/4 cup of fresh grated coconut

1 tsp cumin seeds
METHOD:
First of all roughly chop onions, garlic, ginger and grind them all together with chilli powder and make it into a paste, and keep aside.

Boil moong dal in a pressure cook or in a separate container till soft. (what I did was I put 1/4 moong dal in a container and just added water which stood 1 inch above the dal and cooked it in a pressure cooker).

Wash spinach throughly, chop it up and keep aside.

Heat oil in a wok and season it with cumin seeds, curry leaves and red chillies, Add the ground paste and fry until the raw smell disappears, then add the chopped up spinach and cook until well done.

Then add the cooked moong dal and mix well, close it with a lid and leave it for a five minutes.

Then add chopped coriander leaves and grated fresh coconut mix well and serve it as it is or add a tbsp of lemon juice to give it a tangy effect.

Serve it with chapatis or Rice and Rasam or Sambhar.