I have so many Book Marked recipes in my list, I have tried so many of them, sometimes I have missed out taking pictures, but most of them I have in my mobile camera!!, and in my laptop, hoping that I would bring them into the blogosphere!!, and make my bloggers chirps happy when they see that I have tried them out with success!, and was liked by my family. In that lot one of them is this more curry from Tina of Kaipunyam's blog. I should tell you a little story about this, as I have already mentioned R's favourite is morekozhmbu and potato roast, when Mr.R was living alone here before I Joined him here he said he used to go to this malayali shop where he used to get this more curry powder which he used to buy make this sambhar!!, After he had a stock of them and even I tried them out and used to like it and even I kids relished it!!, When I saw this recipe in Tina's blog I wanted to try it out. But, I still wonder what was their in that more curry powder !!, The last time I went to that store R was searching for this powder and we couldn't get it. Any way R liked this more curry too!!, as I had never made this, this way any time. Here is the recipe, and for a wonderful picture you must visit Tina's blog!!.
ALOO-METHI-CAPSICUM ROAST AND
VELLARIKA (CUCUMBER) MORE CURRY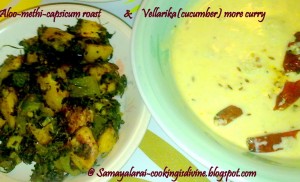 INGREDIENTS:
2 Cups Curds

1 Cup Vellarika

2-2 shallots

2-3 Garlic pods

4 to 5 Green chillies

1/4 tsp turmeric powder

1 tbsp cumin seeds

1/4 tsp fenugreek seeds

2 tbsp freshly grated coconut

1 sprig curry leaves

1 tsp mustard leaves

salt as required

1 & 1/2 cup water
METHOD:
Chop both the sides of the cucumber and take out the sourness from them and wash the vegetable and peel the skin and cut it into cubes.

cook the chopped cucumber with the water said above until soft with turmeric and 2 green chillies

Grind coconut, remaining shallots, garlic pods and remaining green chillies and cumin seeds into a smooth paste ( I roasted shallots in a tsp of oil before grinding as I thought that the raw smell may not be nice should try without roasting it next time!!)

Add this ground mixure into the cooked vellarikka and boil it for few more minutes then add curds to it and mix well and allow it to simmer in a low flame for few more minutes keeping an eye on it because if it starts boiling it curdles up and water saperates out, so, when you see at the border of the curry you can see small bubbles forming it is best to put off the fire immediately than risking it by seeing it being curdling!!

Then Season it with heating 2 tbsp of oil, then adding mustard seeds, fenugreek seeds, a tbsp of channa dal, urad dal and shallots, curry leaves to it I used 2 dried red chillies also to it.

Add required quantity of salt and mix the seasoning and serve it with a dollop of ghee and hot rice and dry curry of your choice.
I served more curry with Aloo-Methi-Capsicum Roast. which gave a boost to our senses and to our taste buds!!
ALOO-METHI-CAPSICUM ROAST:
1/4 kg Capsicum

1 medium bunch of Methi leaves

1/2 tsp Turmeric powder

2 to 3 tbsp of Chilli powder

1/2 tsp of Cumin and coriander powder

1/4 tsp of Fennel powder/saunf powder

1/4 tsp of Asafoetida

1/2 tsp of mustard seeds

1 tbsp of chenna dal

1 tbsp of urad dal

1 sprig of curry leaves

salt as required
Cook Aloo in a pressure cooker and remove the skin and cut it into cubes ( or you can cut potatoes into cubes peeling of the skin or keep the skin if you wish and use it straight in the wok).

Wash & cut capsicums into cubes remove the seeds

Take a wok pour 3 to 4 tbsp of oil heat it, once the oil is hot add mustard seeds, chenna dal, urad dal, turmeric powder and then chopped potatoes and chopped capsicum and curry leaves and mix well

Now Wash the Methi leaves and chop it fine and add it to the wok mix well and allow it cook and roast well in a low flame

Once everything is three fourth cooked add the required amount of salt, and all the powders mentioned above mix well and leave it for some time so that the vegetables absorb all the powders and cook well.

Once everything is well done, serve it hot with rice, chappatis or pooris, you can mix it with rice and eat it too !!
Notes:
I always chop Methi leaves at the end that is just before adding it to the recipe because otherwise it becomes too bitter, as Methi leaves have a bitter taste to them.
I also use Fenugreek seeds to wash hair, that is you have to soak a fistful of fenugreek seeds overnight, Grind it to a smooth paste if you keep adding water the quantity keeps increasing. Just check with the length of hair you have and soak fenugreek seeds, well, you would know by now how much hair I have !!, ( I used to have a nice thick long hair in college time!!) not anymore!!, apply this paste to the hair leave it to dry for 2 to 3 hours and wash it throughly with the way you always wash your hair, try this every week, These seeds help in avoiding dandruff and gives a beauty and lustrous hair as the end product.