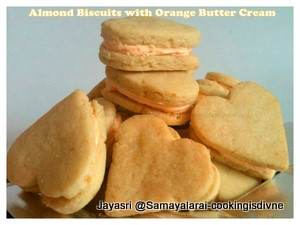 Hello everybody, these cookies or Biscuits whatever you want to call them was loved by one and all in my family.., especially my Hubby, I was inspired to make these Biscuits from Ayeesha's blog, but adapted with my changes to bake these, I love Oranges which you must have noticed if you are regular visitor of my blog, I try and use Oranges in most of my baking when I daughter keeps asking for a tangy taste.  Let me get to the recipe or I might start blabbering about loads of other things.
ALMOND BUTTER BISCUITS WITH ORANGE BUTTER CREAM
Makes around 25 cookies
INGREDIENTS:
FOR THE ALMOND BISCUITS /COOKIES
1 Cup  (125gms)  All purpose Flour
100 grms Butter
75 grms Blanced Almonds powdered
1/4 tsp Vanilla essence *
1 tbsp Orange Zest
1 to 2 tbsp of Fresh Orange Extract
1/2 tsp Baking Soda
2 tbsp of hot  milk
Few strands of saffron strands
75 grams Caster sugar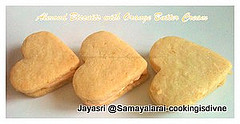 FOR THE BUTTER CREAM
100 grams Butter
200 grams Icing Sugar
A pinch of Orange colour
2  to 3 tbsp of Fresh Orange extract
METHOD:
Soak Saffron strands in hot milk 10 minutes
First let us make Fresh Orange extract 
Take an whole Orange Chop it into thick pieces  pour hot water and drain water, do like this twice, then chop the blanched oranges into thin pieces finely as you see in one of the photos to this add 3 to 4 tbsp of sugar and 1 tbsp of water and cook it in a low flame squeezing the juices in the process until it gets completely cooked and becomes soft and thick juicy like.  taste the juice if you find it bitter add a little more sugar in tsps  Increase or decrease sugar content accordingly , making sure the orange taste doesn't disappear. Now Fresh Orange extract is ready.
TO MAKE ALMOND BUTTER BISCUITS /COOKIES:
Preheat the oven to 160 degrees, In a large bowl take Flour, Baking Soda, powdered Almonds, zest of one Orange to this and now add diced butter to this with vanilla extract and squeezed saffron strands until they become like bread crumbs to this finally add sugar and make it into a dough.
Place this dough in the fridge for at least 1/2 an hour.
Roll out the dough between two sheets of baking parchment paper using a cookie cutter cut the cookies/Biscuits to the desired shape.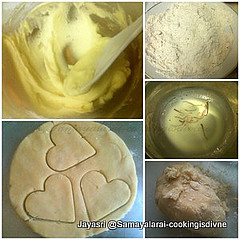 I made some heart shaped cookies and some round cookies, If you don't have cookie cutter make round balls press it a little bit and bake these cookies for 15 to 20 minutes, according to your oven temperature.
Once they are perfectly baked take them out and cool them on a wiring rack.
Let us make the butter cream:
Take softened butter in a bowl add Fresh Orange extract  and Orange colour then start adding sifted Icing sugar in parts and keep beating it until it smooth and creamy.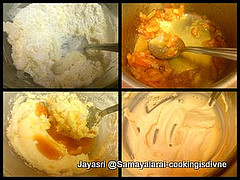 To Assemble the Cookies
Take two cookies of the same size once they are cooled sandwich two cookies with  the prepared Orange butter cream between two cookies
Serve these cookies for Tea time snack or you can gift pack these cookies
These cookies really tasted very nice they had the taste of Orange and were really rich with the saffron strands and had a lovely colour too..
Sorry my photos are such a scrap…
Did you like them, try these out and tell if you liked it….
These cookies go to the 3rd day of Bake-a-thon to Champa of Versatile vegetarian and join me to see what others have baked with me…
I too need to check out their blogs for the delicious visual treats… of Champa, Priya, Preethi, Srivalli, Veena and Sumana Deepak.