This is a very well known Tiffin variety of south Indians and the people of karnataka do really enjoy this as it is so filling and doesn't make you hungry for a long time,This is quite a healthy dish, it has more carbohydrates as it is made with Rice flour, but it is such a healthy dish as I said earlier as it uses less oil and you can use a variety of vegetables in this. This is one of making kids eat lot of veggies, when you are making for kids use coconut it becomes more delicious.
I always felt that after eating this you feel like drinking water all the time just like when you eat dosa the same feeling happens and feel as if you are thirsty all the time. As if there is a sponge in your stomach absorbing all the water you are drinking.
well coming back to the recipe Akki Rotti is dish made out of Rice flour and Raagi Rotti is a dish made out of Finger millet flour (Raagi Flour),even you can try making these kind of Rottis with corn flour and fine semolina rawa.
1 cup Rice flour for Akki Rotti and 1 cup Finger Millet (Raagi) flour for Raagi Rotti
1 or 2 green chillies (optional)
salt to taste
2 to 3 sprigs of coriander leaves
1 sprig curry leaves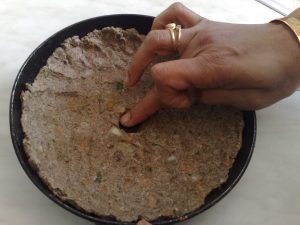 Basically that is all is required to make rottis but you can add lot of things to make it even more tastier and richer to eat
You can add finely chopped onions.
you can grate carrots, cabbage to it
with the plain above said ingredients you can add a cup of fresh coconut grated which is so tastier. You can add this grated coconut mixed with all the vegetables which i have just been telling about,
You can also add a tbsp of cumin seeds, tbsp of channa dal with finely chopped curry and coriander leaves and finely chopped onions.
You can also add roasted peanut powder with all the above said ingredients which is much more tastier.
During the Avarekkai (lilva beans / Papdi lilva ) season pick out the very tender ones and mix it with the plain basic recipe and make rottis they are absolutely gorgeous to eat.
You can also make these rottis with Methi or Fenugreek leaves
You can use capsicum which is finely sliced with other ingredients
Take Akki or Rice flour or if you are making with Raagi flour the method is the same, In a bowl take the flour add all the ingredients finely chopped coriander and curry leaves and green chillies mix them together with warm water into a chapati dough consistency and then in a wok with you back of your fingers that is towards the nail side, with the help of water flatten them in the wok in a round shape.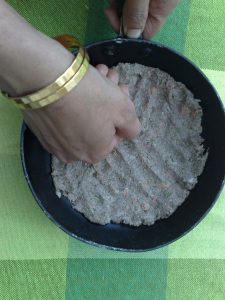 Pour oil on the border of the line and make a hole in the middle and pour little oil in it and cook it in a low flame for 10-15 minutes turn it around once it is cooked and cook for another few minutes and now it is ready to serve with any side gravy of your choice or with chutneys or powders(pudis) of ur choice.
You can also use a plastic or the sheets you make poli or obattu with, to make these rottis then you do not need a wok, you can use a tawa.
Take a small ball of it flatten it on a sheet into a round just like a poli make a hole in the middle and put it on the tawa and cook on both the sides.
I use the covers of boost, horlicks etc for making polis which do not stick on to the tawa or u can also use plantain leaf to make them.
Serve them hot which is the best way to serve with coconut chutney
I love these with any thing my favourite Chutney, chutney podi, pickle or Yogurt, I can eat them just like that, people prefer to eat it hot but I don't mind eating them cold.
I would say once you are hooked to it you will just love it.
Best Rice flour to use for this is which you make it at home :
Wash rice drain away for few minutes or 1/2 an hour then dry them in a shade, once they get dried give them to a mill or you can grind them in a mixie but you need to sieve them to a fine flour.