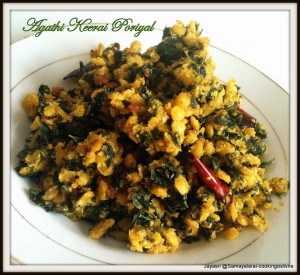 Blogging Marathon is such an addiction, after regular posting suddenly with problems I was unable to post for 3 days, but this is such an addiction which you don't want to leave and Valli our hostess is such a gem of a person who is been kind enough to understand and allow me to do it with leisure after my problems get solved, but I couldn't stop myself from doing so. As this is a commitment which I have agreed and I need to do this as quickly as possible. As of today my Group 2 is going to start with my first post today :), so I have planned to do it by tonight, so this will be my 2nd post of the day and stay tuned in for 2 more posts!!.
In India you can different varities of Green leaves which are nutritious and used for its so many medicinal values, as India is famous for its Ayurvedic medicine, The root of Ayurvedic medicine is using natural ingredients found in the Nature, as the trees, leaves, fruits, nuts, roots, bark etc.., totally everything is used from lot of things found naturally by our mother earth.
In olden days our ancestors always had a very particular method of eating food, which I think most of the Indians that too specially our bloggers who love food, basically who try to cook and bake good food healthy and nutritious food understand the importance our ancestors applied in their food habits in everyday cooking.., One such recipe is Agathi Keerai/ also called Aathi keerai is called Humming bird tree in English, The Botanical name for this tree is Sesbania Grandiflora tree, check out wiki for more information.
This tree has got a number of medicinal properties which is used in our traditional ayurvedic and other traditional medicines.
This Dry curry is usually made on Dhuvadeshi day that is after the Ekadasi day which is an auspicious day dedicated to Lord Vishnu on the eleventh day of Lunar fortnight. The Dhuvadeshi day which falls on the 12th day that is the next day after Ekadasi, in the month of Marghzi month according to tamil calender.
The devotees who absorb Ekadasi by fasting the whole day, will prepare a very tailored food the next day, This is one such recipe prepared on that day, we usually make..
Mor kohambu, Agathi keerai poriyal, Poricha sathamadhu, Nelli kaayi pachadi, Rice, Paruppu, Moong dal payasam, etc..,
This Keerai/green leaves is a bitter to taste, but it is very good for health.
Check out this website which tells you more about these Leaves, http://www.indusladies.com/forums/indian-diet-and-nutrition/29499-agathi-keerai-and-its-benefits.html, tells you more about it benefits.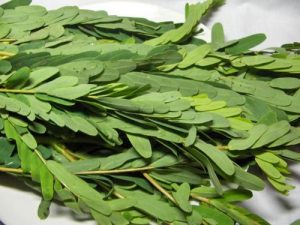 courtesy Google
AGATHI KEERAI PORIYAL/ AGASE SOPPU PALYA
INGREDIENTS:
1 Bunch of Agathi soppu/keerai
1/2 cup Tuvar Dal
1/4 cup fresh coconut
salt to taste
A pinch of Asafoetida
1/2 tsp Turmeric
Seasoning:
1 tbsp Oil
1 tsp Urad dal
1 tsp Channa dal
4 Red chilies
1 tbsp curry leaves ( 1 stalk)
METHOD:
Pick out the leaves, wash and keep aside.
In a low flame, cook Tuvar dal in a pressure cooker, with 1 cup of water. Don't over cook it, it should not become mushy, this should be done as if you can break it into 4 pieces.
Chop the leaves and keep aside.
In a pan heat tbsp of oil, once it is hot reduce the flame add mustard seeds once they splutter add channa dal, urad dal, chilies and curry leaves (chop it finely so kids will never know and eat it too!).
Add chopped Agathi leaves sprinkle water and cook it well until cooked, sprinkling water now and then.
Dissolve Asafoetida in a tbsp of water and sprinkle it.
Once they are well cooked and cooked Tuvar dal, mix well, add salt as required.
The curry should become dry, add freshly grated coconut mix well.
Serve it with Mor kolumbu or with poricha santhambdhu.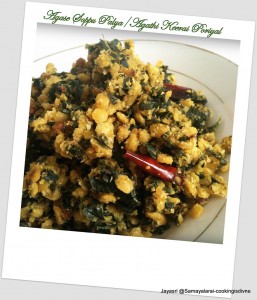 I would love to send this to
WTML of Gayatri's hosted by Rasi of Vegetarian food and me.
MLLA # 46, started and hosted by The well seasoned cook - Susan
Chef mirelle's Coconut event
sara's event started by kalyani - Kitchen chronicles - Heirloom recipes
Healthy diet - side dishes by vardhini of Cook's joy
This is 6th day post for Blogging marathon... c u soon with an other recipe....
Check out the Blogging Marathon page for the other Blogging Marathoners doing BM#15