A south Indian breakfast made with Mango!! make it with sour or semi-sweet Mangoes, these are so delicious and spicy and can be eaten on its own with a dollop of ghee or serve it with coconut chutney.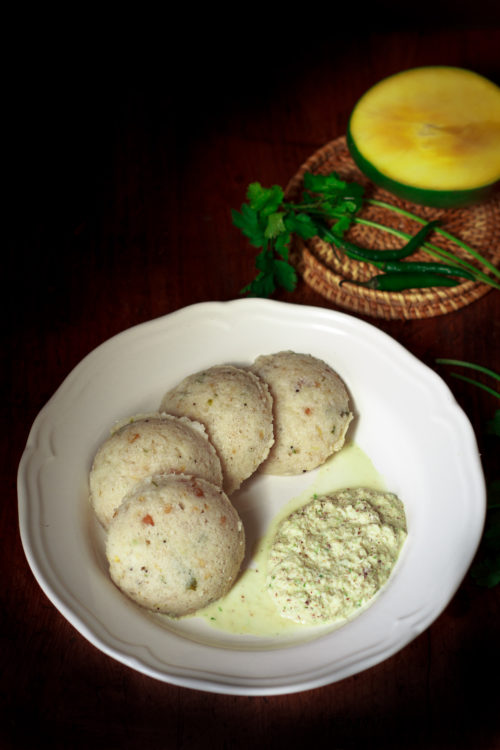 To make Rice Rava I use two methods:
when I don't have time:  I just grind rice in quick mode that is I quickly grind it in short bursts  and make it into a rava in my indian mixie.
When I don't have time: I wash and then leave it to drain for 10 minutes then fry it in a wok for few minutes, when it cools down grind it into a rava consistency.
Optional Instead of Rava: Instead of Rava you can use Rice flour, Millet flour ( when using millet flour I use Rice and Millet 1 and 1 of each)
I use poha in two different ways, when I get hold of thin poha I wash it and soak it in buttermilk and mash it with my hand as it is mashable,  If I get hold of thick poha
Using Buttermilk:  You can use butteirmilk if you don't have buttermilk, you can mix 1/2 cup of sour curds/yogurt with 1/2 cup water blend it well and your buttermilk is ready. Or you can use just use 1 cup of yogurt.
Why we need Buttermilk:  Buttermilk/sour curd acts as an acidic agent and helps in fermentation.
Why we need Eno Fruit Salt: This acts as a leavening agent and helps in rising and getting that fluffiness in Idlies.
Not using Buttermilk: If you do not want to use buttermilk you can mix all the dry Ingredients expect curds/buttermilk and eno mix it with water as required to make it to a batter consistency and leave it to ferment overnight!! it's as simple and next day you can make idlis as usual.
Mango Idli: I have used two medium sized mangoes.  It came up to 1 cup loosely packed.
Water as required: Use water as required to make it into a Idli batter consistency.