hi, I made this curry when everybody was posting Brinjal gravies I got so tempted and wanted to cook something, Actually I had planned to cook one of my fellow blogger recipes but, sometimes I do not get time to look into blogs when ever I need them, I always cook in a jiff and as I already told earlier I most of the time cook in the time, I will be running short of time!.
METHI-BRINJAL-CARROT MASALA GRAVY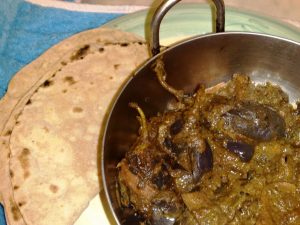 Ingredients:
1 bunch of methi leaves
2 medium sized  carrots
1/2 Kg Small Violet Brinjals
To Grind:
1 tbsp ucchellu
1 tbsp dry roasted peanuts
10 cashewnuts
5 dates
2 tbsp of dessicated coconut/dry copra/fresh coconut
1/2 tsp of Fenugreek seeds
1 tsp of pepper corns
3 – 3 Red chillies (Badgi-Guntur)
1/4 tsp asafoetida
1/2 tbsp coriander powder
1 tsp cumin powder
4 cloves
2 marati moggu
1/2′ Cinnamon sticks
4 pods of garlic
4 medium sized onions
Take a wok heat a tsp of oil add fenugreek seeds, then cloves, cinnamon stick, marati moggu, pepper corns, chopped garlic & chillies,fry them with onions and keep aside.
In the same wok dry fry peanuts and keep aside, otherwise you can use ready made roasted peanuts sold in supermarkets.
Then dry roast the Ucchellu for 5 minutes, it is optional or you can substitute with black til but 1 or 2 tbsps of it not 1/2 cup !!.
Remove the husk of the peanuts and then grind with rest of the ingredients that is with the ones which are already roasted and with them grind cashew, dates, coconut, coriander & cumin powder into a fine powder and keep aside.
Take small round brinjals wash & wipe them, then cut into 4 slits at the other end of the crown, and then fill it with the powder and try to close them, in the same way fill all the brinjals and keep aside.
Meanwhile take a bunch of methi leaves pluck the leaves, wash & cut them, just remember do not cut the methi leaves long before use as they become too bitter.
Take 2 carrots wash & peel, cut into 2" slightly thin slices.
Take a wok, heat 4 to 5 tbsps of oil, add mustard seeds, once they splutter, add the washed & cut methi leaves, and carrots and fry for 2 minutes then add the stuffed Brinjals and left over powder and a cup of water with required quantity of salt and close a lid then turn the stove to a low flame and allow it to cook for 15 to 20 minutes or until it is thoroughly cooked.
By checking add water if necessary so, that it doesn't get dried and let it stay in a gravy consistency.
Once it is cooked serve it with chapatis or rice or pulkas or in whatever way you want to eat it!.