Methi & Dill leaves Pappu (Andra dish)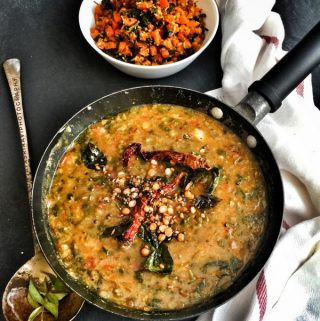 Recipe type:
Main Meals (Lunch/ Dinner)
1 bunch Methi/Fenugreek/Menthya soppu Leaves
1 bunch Dill leaves
1 Tomato
1 cup Tuvar Dal
2 to 3 Green chillies
¼ tsp Turmeric powder
4 to 5 Garlic pods
2 medium onions
1 to 1 and ½ tsp Red chilli powder (instead of Red chillies)
salt as required
2 tbsp Thick Tamarind extract
1 tsp Dhania powder
1 tsp cumin powder
1 tbsp oil
Seasoning:
¼ tsp Mustard seeds
1 tbsp urad dhal
½ tbsp channa dal
2 to 3 Red Chillies
1 stalk Curry leaves
Wash the Green leaves thoroughly and chop them, wash Dal.
Take a Vessel, Add the chopped leaves, Washed Dal, a pinch of turmeric powder, green chilies, 1 Onion and 2 cloves of garlic pressure cook them till 2 to 3 whistles.
Allow it cool, Meanwhile, Take a wok or pan heat oil, add the seasonings with red chilies, chopped garlic, and chopped onions and fry them till they become transparent.
Then add the Tomatoes and saute until they are cooked
Take the cooked dal along with the greens, mash them thoroughly with a masher, until dal and green leaves are well combined together.
Add the fried seasonings, required quantity of salt and allow it to boil for few minutes with the tamarind extract.
Add 1 tsp of Dhania powder and 1 tsp of cumin powder
Garnish it with chopped coriander and curry leaves and allow it to boil for another 2 minutes
serve hot with cooked rice and a dollop of ghee
Increase or Decrease  chilies or Tamarind according to individual taste
You can use Red chili powder instead of Red Chilies
When using Tomatoes check the sourness of the fruit and add Tamarind, you can also use Green gram dal with this instead of Tuvar Dal
Swapna's mum even told me you can omit dhania, jeera and chili powder and add Dhaniyalu podi in it. This podi I will be posting it in my Masala powder Recipes.
Recipe by
My Veg Fare
at https://www.myvegfare.com/methi-fenugreek-and-dill-leaves-pappu-dal-andhra-cuisine/