Gluten free, Dairy free, Coconut flour Pineapple cake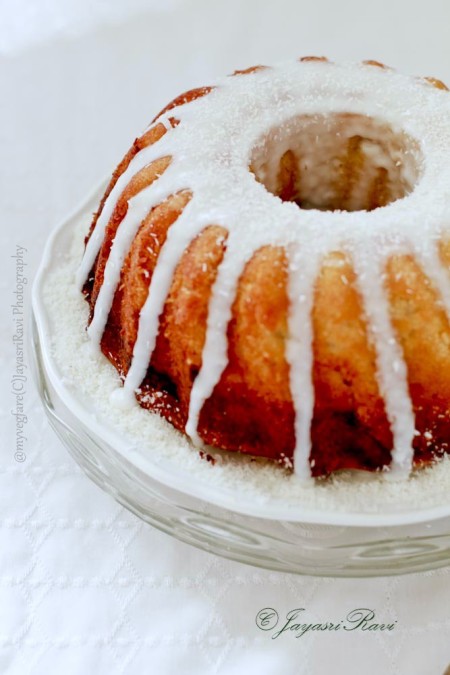 100grms Samai flour(little millet)
75 grms Sorghum flour ( Jowar)
40 grms Coconut flour
145 grms Caster sugar
40 grms Coconut sugar
150 grms Coconut milk
150 grms Pineapple puree
¼ Cup Coconut oil
¼ Cup Olive oil
1 ½ tsp Baking powder
½ tsp Baking soda
3 Eggs
3 tbsp Pineapple Juice
For the Chocolate layer (Optional)
20 grms Coco powder
2 tbsp coconut sugar
1 tbsp of Pineapple juice
For the Icing:
1 Cup Icing Sugar sifted
1 tbsp Pineapple juice
¼ cup dessicated coconut
Preheat the oven to 180°C / Gas mark 4, Grease a Bundt cake with any of the gluten free flour about I mixed it with a bit of coconut flour as well.
In a bowl mix all the dry ingredients millet flour, sorghum flour, Baking powder and Baking soda sieve well and keep aside.
In another bowl mix the wet ingredients Coconut sugar, Caster sugar, coconut milk, Pineapple puree, coconut oil and olive oil blend them well together
In a bowl break one egg at a time and beat them well adding both the sugars until fluffy to this add the wet ingredients until smooth.
Completely incorporate the dry ingredients with the help of a spatula.
I made a Chocolate mixture using the ingredients above the chocolate layer heading.
Pour in the cake batter into the prepared Bundt tin in two parts layering the Chocolate mixture.
Bake this for about 55 minutes or until a tooth pick comes out clean when inserted near the tube of the tin.
Let it cool then release the cake around tap gently and unmould it from the pan onto a wire rack.
In a bowl combine the Icing sugar with the pineapple juice until it is thick and runny, pour this over the cooled cake allowing it to drip it down the sides of the cake then sprinkle some desiccated coconut over it to get a more coconut flavour if you prefer otherwise just leave it as it is.
Please check your oven as my oven very heated up I bake my cakes in Gas mark 3, I have mentioned above the usual cake baking temperature. I baked my cake for 55 minutes.
I was just thinking I shouldn't have used chocolate layer this way next time I would completely make it a chocolate cake or a marble swirl cake.
I have cut a circle in a cardboard using a Bundt pan and a hole in the middle and insert it into the tin, this helps the cake sliding on to the board nicely.
I have given 3 tbsp of pineapple juice don't wonder why I have not said anything about it, as the batter had become slightly thicker than I wanted it to be I used it to thin it down.
I used Canned Pineapple and the juice from it, if you are going to use fresh pineapple just check if they are sweet otherwise you might end up with a sour cake and your sugar wouldn't match it.
I have used canned coconut milk as well, buy the best product I did not use the water but the thick cream on top when you open it.
Recipe by
My Veg Fare
at https://www.myvegfare.com/gluten-free-dairy-free-coconut-flour-pineapple-cake/