We Knead to Bake #27 - An Orange and Cinnamon Roll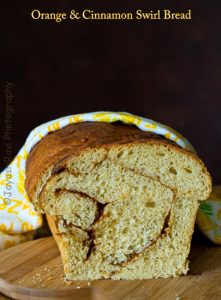 1 tsp Sugar
⅔ cup warm + ¼ cup*
2 tsp dry yeast
450 grms Bread flours
100 grms Khorsan flour*
3 tbsp Sugar
2 Eggs
⅓ cup Juice and finely grated zest of 1 Orange
5tbsp Apricot Preserve
1 tbsp Cinnamon powder
½ cup Brown sugar
Oil for greasing
Grease two Loaf tins with oil, In a large bowl take 2 to 3 tbsp of water sprinkle 1 tsp of sugar and yeast, leave it for few minutes watch it when it starts to bubble up, so now we know that the yeast is active. To this add, 3 tbsp of sugar, eggs and flour ( Sieve the flours together twice so that they are well blended together), zest, Juice, and water make it into a somewhat firm dough.
Knead this dough for 10 minutes to a smooth dough, take a large bowl oil the bowl and coat the dough completely with oil and leave it for 1 to 1 and ½ hours in a warm place until it doubled in size.
Once doubled punch the dough and knead it a few minutes until it is firm, Roll the dough into 6 x 13'' rectangles, spread each rectangle with Apricot preserve, cinnamon, and brown sugar. Roll up each rectangle into firm jelly roll and place them in the loaf tins cover it and leave it for further 30 minutes.
Preheat the oven 200C (400F), [I preheated the oven to Gas Mark 3 and baked it at gas mark 4 as my oven gets very hot ] brush it with milk and bake the loaves for 30 t0 35 minutes until the loaf is golden brown in colour and the bottom when tapped sounds hollow. Cool it on a wire rack, This recipe makes 2 loaves.
As I have used Khorsan flour and Bread flour I had to use an extra ¼ cup of water, if using All purpose flour according to the Original recipe it uses 3½ of Flour and ⅔ rd cup warm water or else you can just use bread flour and probably need the extra ¼ cup of water
Recipe by
My Veg Fare
at https://www.myvegfare.com/we-knead-to-bake-27-an-orange-and-cinnamon-roll/